This is part two in a three part series of 60 things to see and do in London. You can also check out part 1 and part 3.
Arguably one of the greatest cities in the world, London is bursting at the brim with things to see and do.
Having lived in London for two years and spent a lot of that time being a tourist, I know a fair bit about the city and what attracts people to it. So, I have challenged myself to come up with a list of 60 things to see and do in London.
This list is completely random and not in any order but will included the more obvious well trodden sights along with some you may not have heard of. Even if you have visited London before, I hope you find something on this list that will make you want to go back for more!
This post contains affiliate links. Our full disclosure policy is here.
Westminster Abbey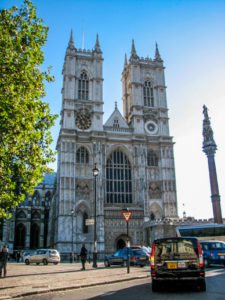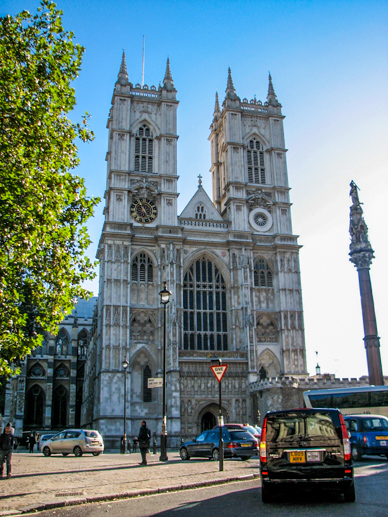 This large, mostly Gothic, church is one of the most notable religious buildings in the UK and is the traditional place of coronation and burial site for British monarchs.
A religious building has stood on this ground since as early as 1080 but the Abbey you see today begun being built in 1245 as ordered by Henry III.
It is simply breathtaking both inside and out but it is inside that you will find so much to explore. Make sure you allow a good few hours to visit properly.
You may recognise Westminster Abbey as the place where Prince William and Princess Catherine were married in April 2011.
Address: 20 Deans Yard, SW1P 3PA
Nearest Station: St James's Park and Westminster Tube Stations
Hours: Check this website before visiting for opening times
Skip the line, pre-book your Westminster Abbey Ticket including Audio Guide
Emirates Air Line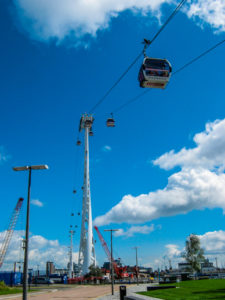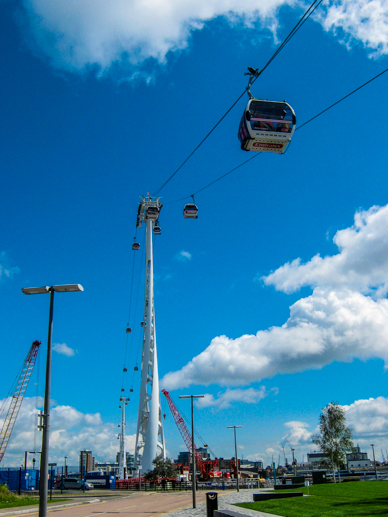 One of London's newest attractions, the Emirates Air Line opened in June 2012 just in time for the Olympic Games.
This gondola ride stretches 1km across the Thames from the Greenwich Peninsula to the Royal Docks and offers beautiful views in all directions of London and the river Thames.
Address: Entry via Royal Docks 27 Western Gateway, E16 4FA or Greenwich Peninsula Edmund Halley Way, SE10 0FR
Nearest Station: Royal Victoria DLR or North Greenwich Tube Station
Hours: Mon-Fri 07:00-21:00, Sat 08:00-21:00, Sun 09:00-21:00
Kensington Roof Gardens
The Kensington Roof Gardens cover 1.5 acres on top of the former Derry and Toms building on Kensington High St.
Open to the public free of charge (when there are no special functions or private events happening), you can enjoy the three themed gardens (Spanish, Tudor and English Woodland) or have a meal or drink in the restaurant overlooking the gardens. There is also an exclusive members only club on Friday and Saturday nights.
Address: 99 Kensington High St, W8 5SA access via Derry St
Nearest Station: High St Kensington Tube Station
Hours: Advisable to call ahead to check the gardens are open
Like a rooftop bar? Check out this list of top rooftop bars in London.
Buckingham Palace State Rooms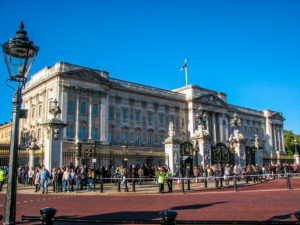 The State Rooms in Buckingham Palace are open to the public each year in August and September when the Queens is taking her summer vacation.
With your admission ticket you can wander around 19 grand rooms that are used by The Queen and members of the Royal Family to receive and entertain their guests on State, ceremonial on official occasions.
You also get access to the gardens which are lovely. And why do as the British do and enjoy a scone and cup of tea in the pretty Garden Cafe.
Address: Buckingham Palace SW1A 1AA
Nearest Station: Victoria, Green Park, Hyde Park Corner and St James's Park Tube Stations
Hours: August 09:30-19:00 daily, September 09:30-18:00 daily
Due to the limited season, tickets sell out months in advance. Book here to avoid disappointment.
Hampton Court Palace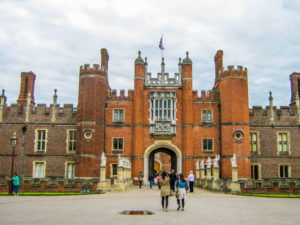 Located in south west Greater London, the Royal Hampton Court Palace hasn't been a Royal residence since the 18th century.
The palace was originally built for Cardinal Thomas Wolsey in 1514 and then later passed onto King Henry VIII in 1529 and enlarged.
The beautiful palace interior is outshone by the incredible 750 acres of parkland that include 60 acres of formal gardens, a maze and the Great Vine.
Visiting Hampton Court Palace is well worth the extra effort it takes to get there.
Address: East Molesey, Surrey KT8 9AU
Nearest Station: Quickest way to arrive is via Southwest Trains from Waterloo in 35 minutes
Hours: Summer 10:00-18:00, Winter 10:00-16:30
Book your entrance ticket to Hampton Court Palace and Gardens here
Tower Bridge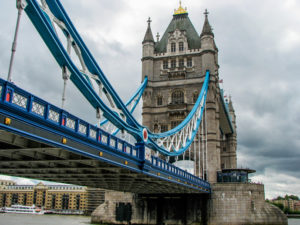 One of the many iconic symbols of London, Tower Bridge is a combined drawbridge and suspension bridge crossing the river Thames.
The bridge consists of two towers tied together at the upper level by two horizontal walkways which these days are part of the Tower Bridge Exhibition.
Also housed in the bridge's twin towers and the Victorian engine rooms, the exhibition uses films, photos and interactive displays to explain why and how Tower Bridge was built.
Visitors get to also see the original steam engines that once powered the drawbridge. As you can imagine, the views looking down the Thames are also pretty good.
Address: Tower Bridge Road, London, SE1 2UP
Nearest Station: Tower Hill Tube Station
Hours: 10:00-18:00 in summer, until 17:30 in winter

Tower of London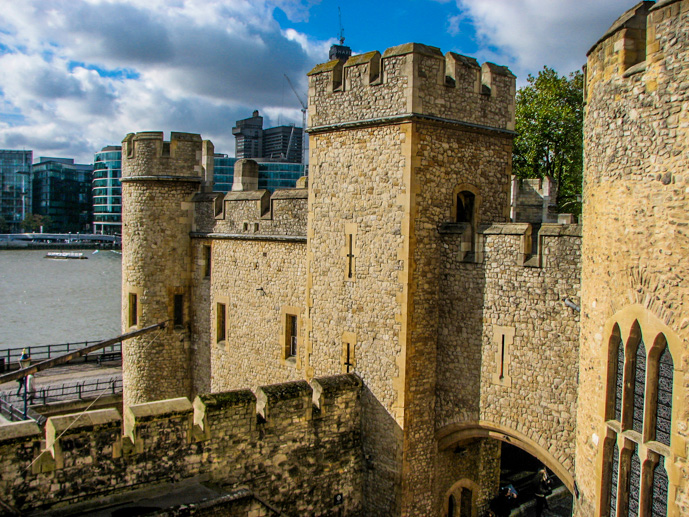 The Tower of London was built by William the Conqueror in 1078 and turned into a prison in 1100. Some of its most famous prisoners included King Henry VI, the wives of King Henry VII, Anne Boleyn and Catherine Howard and Sir Thomas More. These days the Tower is a museum rather than prison.
A great way to see some of the grounds is with an entertaining tour hosted by the Yeoman Warders who will frighten and dazzle you with tales of the Towers past.
Another option is with a guided audio tour. This comprehensive tour will guide you through and the attractions, telling you stories and myths within the Tower walls and buildings.
Don't forget to check out the British Crown Jewels which you can see on display as part of the Royal Collection. These jewels are still used by the Monarchy today.
In the centre of the tower is a lovely green space, perfect for a rest as you explore and also where you will find the famous resident ravens and gate keepers of the Tower. It is said "If the ravens leave the tower, the kingdom will fall………..".
Address: Tower HIll EC3N 4AB
Nearest Station: Tower Hill Tube Station
Hours: Summer Tues-Sat 09:00-17:30 & Sun-Mon 10:00-17:30, Winter closing 16:30

Victoria & Albert Museum
The V&A Museum, as it is more commonly known, is the world's largest museum of decorative arts and design, housing a permanent collection of over 4.5 million objects.
Its collection spans 5,000 years from ancient times to the present day with pieces from the cultures of Europe, North America, Asia and North Africa. Items include ceramics, glass, textiles, costumes, silver, ironwork, jewellery, furniture, medieval objects, sculpture, prints, drawings and photographs.
There is also a very pretty central garden where you will find museum visitors lazing in the sun in between taking in the exhibitions.
Address: Cromwell Road, SW7 2RL
Nearest Station: South Kensington Tube Station
Hours: 10:00-17:45, until 22:00 Fri
Brick Lane
Located in East London, Brick Lane is home to London's Bangladeshi community and is most famous for its curry houses. If you like a good curry this is the best place to find it in London.
Most nights of the week when you walk down Brick Lane you will be bombarded with restaurant staff out the front of their restaurants trying to get your attention and offer you a better value meal than the next restaurant.
As you can imagine the prices can get very low especially for what you get. I once had a two course meal including naan bread and rice plus one alcoholic beverage for £8. The food was delicious and plentiful!
Also in Brick Lane you will find the Brick Lane Markets on a Sunday as well as lots of street art, newly opened galleries and plenty of trendy new bars.
Address: Brick Lane, Shoreditch E1 6PU
Nearest Station: Aldgate East Tube Station
Hours: Markets Sun 09:00-17:00
Harrods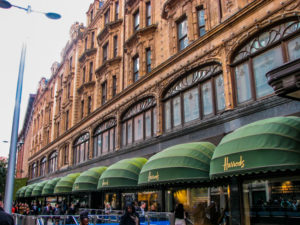 Founded in 1834, a trip to London wouldn't be complete without a quick stop at one of the world's most famous department stores, Harrods.
The store has over 90,000 m2 of selling space in over 330 departments making it the biggest department store in Europe. It is massive and I wouldn't recommend trying to cover the whole store on your visit as the majority of the items for sale you probably can't afford.
It is however worth a quick look around some of the departments including the spectacular food hall selling delicious treats from all over the world as well as your typical British fare.
There is also a large souvenir department where you can purchase the iconic Harrods carry bag.
Address: 87-135 Brompton Road, SW1X 7XL
Nearest Station: Knightsbridge Tube Station
Hours: 10:00-20:00 Mon-Sat, 11:30-18:00 Sun
Routemaster Bus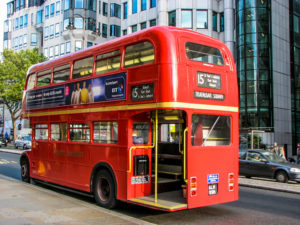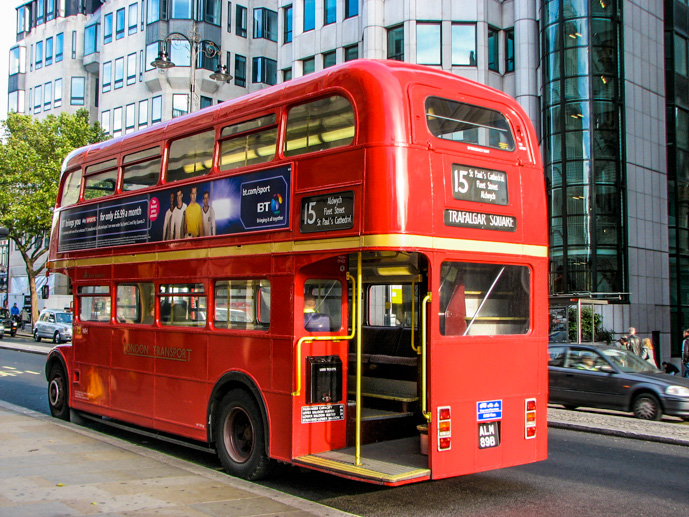 The first Routemaster bus service in London was in February 1956 and was well ahead of its time.
The layout of this iconic vehicle was very traditional for the time, with a half-cab, front-mounted engine and open rear platform where you would find the conductor and enter the bus.
Unfortunately the last Routemaster buses were withdrawn from regular service in December 2005. There is however still an opportunity to ride on one of these heritage buses on one route, line 15, still operated by the old Routemasters in central London. New modern reworks of the old Routemasters are also being rolled out across London.
Location: Line 15 runs from Trafalgar Square to Tower Hill
Hours: Every 20 minutes
Thames River Cruise
A great way to see any city built around water is from the water. And London is no exception. The Thames Clipper services run up and down the Thames between Putney and Royal Arsenal Woolwich piers with the most popular route being from the London Eye east to Greenwich.
Riding on the Thames Clippers is a great way to do a bit of sightseeing or a different way to get from place to place especially if you are heading to Greenwich for the day.
Along the way you pass all the major waterfront sights including Big Ben and The Houses of Parliament, The Tower of London, London Eye, The O2 and it passes under Tower Bridge. River Roamer sightseeing tickets are available also.
Address: Various locations along the Thames
Hours: Generally 06:00-00:00 every 20 minutes depending on the pier
Thames River Cruise Tour Options
Thames Walk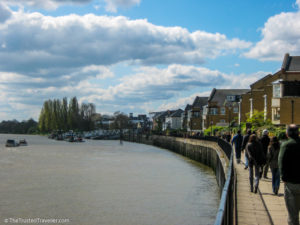 Not a lot of people, especially visitors, know about the National Trail footpath running for 180 miles along the banks of the river Thames. I discovered it while searching for free things to do in London while I was living there and spent lots of weekends taking long walks along the Thames.
Starting at the Thames Flood Barrier at Woolwich in South East London, the path runs along the banks of the Thames to Kemble in Gloucestershire.
As it follows the banks of the river, the path is flat, making for easy walking and with much of the river being a busy waterway, there is usually plenty of activity to watch.
You obviously don't need to walk the whole trail but why not head out to greater London for a few hours and walk along some of the lesser known parts of the Thames. I always found it to be a recharging, peaceful walk with beautiful scenery.
Check out the National Trail website for detailed information on the walking routes.
Lord's
Lord's is the home of Cricket in the UK and one of the most historic sporting venues in the world.
Today Lord's is not on its original site, being the third of three grounds that Thomas Lord established between 1787 and 1814. His first ground was where Dorset Square now stands, his second was used from 1811 to 1813 before being abandoned to make way for the construction of the Regent's Canal and finally the present Lord's ground is about 250 yards north-west of the second site.
The ground can hold 28,000 spectators and is used for local county, T20 and international Cricket matches. The ground consists of a number of stands including the beautiful Members Pavilion and the unusually shaped commentary box.
Tickets to big international matches such as The Ashes between England and Australia can be very expensive but county and T20 matches are much cheaper and a great day out for sports fans.
Tours can also be taken of the grounds when matches are not taking place.
Address: St John's Wood Rd, NW8 8QN
Nearest Station: St John's Wood, Maida Vale, Warwich Ave, Edgeware Rd & Baker St Tube Stations
For ticket and tour information check out the Lord's Website
Covent Garden
Covent Garden is an area on the fringe of the West End popular for shopping, eating and most of all, the street performers that entertain large crowds of people everyday. The area is always buzzing with tourists and a few locals.
The large building in the centre of the square is the former Covent Garden fruit and vegetable market now converted into trendy restaurants and bars and a shopping arcade.
The surrounding area is again full of shops, restaurants and bars as well as many popular theaters and the Royal Opera House. It's a great area to visit day and night and great place for a bit of people watching.
Address: WC2E 8RF
Nearest Station: Covent Garden Tube Station
Trafalgar Square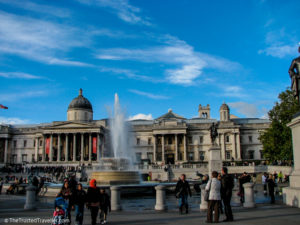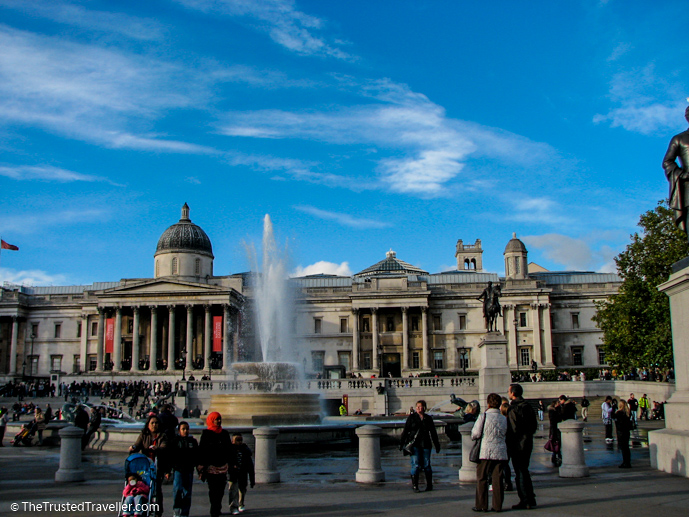 Always full of people, Trafalgar Square is a popular meeting place and hang out for tourists and locals and is know as a place for public gatherings, demonstrations and New Year's celebrations.
In the centre of the Square is Nelson's Column which is guarded by four lion statues at its base.
The name comes from the Battle of Trafalgar, a British naval victory of the Napoleonic Wars over France which took place 1805 off the coast of Cape Trafalgar near Cadiz in Spain.
You will find the National Gallery at the top of the square and the entrance to The Mall at Admiralty Arch running from the south west corner of the square.
Address: WC2N 5DN
Nearest Station: Charing Cross Tube Station
Shakespeare's Globe
Shakespeare's Globe is a reconstruction of the Globe Theatre, an Elizabethan playhouse on the south bank of the Thames.
The Globe Theatre was originally built in 1599, destroyed by fire in 1613, rebuilt in 1614, and then demolished in 1644. The reconstruction is based on available evidence of the 1599 and 1614 buildings and was founded by the actor and director Sam Wanamaker and built about 230 metres from the site of the original theatre.
It opened in 1997 and is used to show various theatrical performances both remakes of the classics and modern plays as well as for educational purposes.
Year round you can also take a tour of the venue and visit the museum dedicated to William Shakespeare.
Address: 21 New Globe Walk, Bankside, SE1 9DT
Nearest Station: Blackfriars, Mansion House, Southwark & London Bridge Tube Stations
Book a tour of Shakespeare's Globe here
London Dungeon
I haven't personally visited the London Dungeon as I am way too easily frightened but I know people who have and they all loved it.
Here is an except from the London Dungeon website which sums up what you will experience:
"We are the ultimate thrill-filled journey through London's murky past, turning 1,000 years of history into 90 minutes of laughs, scares, theatre, shocks, rides, special effects, characters, jokes, mazes and storytelling."
Address: Riverside Building, County Hall, Westminster Bridge Rd, SE1 7PB
Nearest Station: Waterloo & Westminster Tube Stations
Hours: 10:00-17:00 Mon-Fri, until 18:00 weekends
Tickets to the London Dungeon sell out in advance Book yours now to avoid missing out.
Madame Tussauds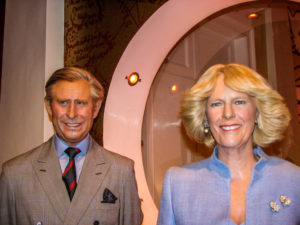 Madame Tussauds has been popping up all over the world these past few years but London is its original location.
The museum displays waxworks of historical and royal figures, film stars, sports stars and infamous murderers with new sculptures being added all the time.
The fun idea of this place is for you to get up close with the famous people. Take photos of yourself in funny poses with people like The Queen and all your other favourite Royals, world leaders like Nelson Mandela and Barrack Obama, singers like Beyonce and Michael Jackson, sports stars from all around the world and actors such as Johnny Depp and my personal favourite George Clooney. It's a lot of fun and very cheesy!
Address: Marylebone Road, NW1 5LR
Nearest Station: Baker St Tube Station
Hours: Daily 10:00-18:00 with extended hours at peak times

Speakers Corner
Every Sunday on the corner of Hyde Park at Marble Arch you will find Speakers Corner where open-air public speaking, debate and discussion are allowed.
Speakers get up on old milk crates and may talk on any subject, as long as the police consider their speeches lawful. Small crowds form around the speaks and of course where there is free speech there is strong debate.
After a few visits myself I noticed mostly people talking about their various religious beliefs, political issues both in the UK and abroad and a few odd conversations about the supernatural.
It's interesting even just for a quick walk by on your way into Hyde Park.
Address: Marble Arch corner of Hyde Park
Nearest Station: Marble Arch Tube Station
Hours: Sunday only
---
Where to Stay in London
Here are three accommodation options to suit all budgets that I recommend you check out. All are centrally located, highly rated and come with excellent facilities.
Budget
The Z Hotel Shoreditch
Located in Shoreditch, all rooms feature a 48-inch HD TV with free Sky Sports and Movie channels, free WiFi and an en-suite shower room with complimentary toiletries is also provided.
Check availability, prices and book
Mid Range
citizenM Tower of London
Located at Tower Hill. Each room is fitted with a flat-screen TV, Apple TV, free movies, free WiFi, a power rain shower and iPad controls. Some feature views of the Tower of London, the Shard or the London skyline.
Check availability, prices and book
Luxury
Pullman London St Pancras
Located a 3-minute walk from the Eurostar terminal and 5 minutes' walk from Kings Cross and Euston stations. The hotel boasts the Golden Arrow restaurant and bar, free Wi-Fi, fitness centre, and 24-hour room service.
Check availability, prices and book
Over to you!
Which of these things to do in London are you most interested in seeing and doing?
Let me know using the comments section below or join me on social media to start a conversation.
Thanks for reading and I hope you enjoyed this post.