This week I am hosting fellow traveller Steve Smith with a guest post about Driving Leonardo's backyard: Five Well/Less-well Known Destinations in Italy.
Often people tell me that travel is all about the journey and not the destination. But I ask, what's a journey without a destination?
Although connections between major cities in Italy are well served by rail and other public transportation, modern engineers have perfected the road building skills passed down by the Romans. This makes driving the best way to reach these well/less-well known destinations – here are 5 favorites:
Siena
Siena is a well-known Tuscan town all tourists seem to love. Even though its popularity shows, there are many walks in this traffic-free UNESCO World Heritage Site far from the maddening crowds.  Spend an early morning on the Fortezza di Santa Barbara fortress walls and watch the sun rise over the city while enjoying café and fresh croissants – right outside the old walls are park-like areas along Via del Giustizia that are perfect for an off-the-beaten-path picnic.  Or just don't worry and follow both locals and tourists to relax at the end of a day on the Piazza del Campo, Siena's front porch, and watch the moon rise over the brick plaza. Siena is just so enjoyable it won't matter much.
Montepulciano
Photo credit – Martin Falbisoner – Creative Commons
Montepulciano is well known for its famous Vino di Montepulciano wine but less-well known as a destination. While the city is pedestrian-friendly and traffic free, it's also most friendly to those with strong legs as the topography emphasizes the "hill" portion of hill town.  Take a walk up the main street and visit the many medieval churches and palazzos you see on the surface, but realize that these are all layered on top of a foundation of ancient Etruscan ruins.  Ask to visit a wine cellar of just about any Enotecha and descend into this subterranean world.
Spoleto 
Spoleto is the perfect place to sample the small town spirit of Umbria. Situated approximately 150 autostrade miles north of Rome's international airport, it makes a great first-day driving destination on the trip north to Tuscany. Take some time to explore the medieval cobblestone lanes and drink in the local ambiance.  A must see is the Museo Archeologico for the Roman and Etruscan artifacts. An added bonus of this museum is the adjacent restored Teatro Romano (Roman Amphitheater).
San Giovanni d'Asso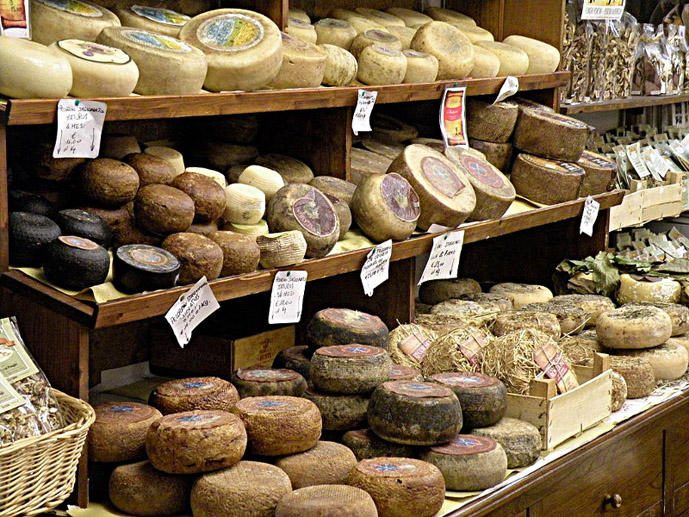 Photo Credit – Dan – Creative Commons
San Giovanni d'Asso is a cute village along a stellar drive through Le Crete Senesi, just south and east of Siena. This road trip traverses a roller-coaster series of clay hills coated with vegetation that color morph with the seasons.  Stop to buy a half-kilo of the regional specialty, Pecorino Toscana Fresco (a nutty-sweet sheep's milk cheese), prosciutto, and a crusty loaf of fresh baked bread for an impromptu picnic on a cypress lined side-road.
Bevagna
Bevagna has everything a hill town has to offer without the hills.  Walking this Umbrian town is the complete opposite of Montepulciano, since very little is vertical (it occupies the valley floor) and nothing's more than a 10 minute walk from anything else.  Park for a small fee outside the walls and stroll in the direction of Via di Porta Guelfa for a Roman-era sight – underneath the modern architecture is the mosaic floor of a second century AD bath complex. Strike up a conversation in "Italglish" and the welcoming residents are more than happy to show you where.
---
About the Author
Steve Smith has been contributing stories and photographs since 2007 to the digital magazine In The Know Traveler, and in 2014 he assumed an associate editor role. Published both in digital and print formats, his international assignments have included Jordan, Egypt, Mexico, Cambodia, Italy, Turkey, with domestic trips to the Pacific Northwest. His Facebook page (Steve's Roadtrippin' Travels) spotlights his latest work, Google Mashup Maps, and displays how space age cartography intersects with digital storytelling.
---
Over to You!
What are your favourite well/less-well known destination in Italy? Or which of these do you most want to visit? 
Let me know using the comments section below or join me on social media to start a conversation.
Thanks for reading and I hope you enjoyed this post.