You either love or hate cruises. It's as simple as that!
Until last year, we didn't know if we were cruise lovers or not. I'd been on a P&O cruise when I was a kid and got terribly sea sick for 3 days. While Mick had never been on a cruise in his life.
So for a little bit of fun and to see if cruising was for us, we decided to book in a little taster cruise. More specifically a 3 night, 4 day cruise to nowhere.
What is a cruise to nowhere? Well, basically it is a cruise that literally goes out to sea for a few days with no destination and then returns to the same port (occasionally a different one) a few days later.
For our cruise, we took off on the Carnival Legend on a Friday afternoon and docked back in Sydney on Monday morning. And to say that we loved it is an understatement!
There are dozens of these cruises leaving from Sydney and ports all over the world and they are ideal for those who have never cruised before or have limited holiday time as most run over a weekend.
From the moment we stepped on-board we had a blast and we didn't want to get off when the cruise was over. It was so much more than we'd imagined and while it wouldn't be everyone's cup-of-tea, it suited us and our purpose, of having a relaxing disconnected break, perfectly. And on another plus side, I didn't get sea sick!
So why did we love it so much? Here are our 7 reasons why a cruise to nowhere was one of our favourite trips of 2015.
Cruise to Nowhere: 7 Reasons Why We Loved It
You have no choice but to relax.
Being on a cruise you are literally trapped, and this is especially so on a cruise to nowhere. With no stops you really have no choice but to relax and enjoy a few days of relaxation and fun.
We relaxed the minute we arrived with seamless boarding and friendly staff. Then continued this trend on the adult's only pool deck with cocktail in hand as we sailed out of Sydney Harbour. Things didn't change either over the next few days as we went from one buffet meal to fun on-board activity to night-time entertainment and many many more cocktails.
Your biggest decision is how many bingo cards to buy.
There really aren't many decisions to be made once you're on-board. Well, difficult decisions that is!
You have the choice of a few different places to eat a meal time, which pool you might relax by for the morning, which activity you might try in the afternoon or whether you want to visit the main theatre or comedy theatre in the evening.
Life's pretty tough on a cruise!
There's plenty of time to try out all on-board activities.
With the cruise not calling in at any ports taking you away from the boat, this leaves you with ample time to try out all the on-board activities.
We made sure we tried as much as we could just to make sure everything was up to scratch (wink wink!). There were luxurious massages and facials had, trivia contents won (if the only travel blogger in the room didn't win the travel trivia contest there is something seriously wrong!), bean bag throwing competitions lost (my aim sucks!) and countless morning and afternoon bingo games played (with cocktail in hand).
Plus we made the most of the shows, taking in both the comedy theatre and the main theatre for a stage show on two nights.
---
Read More: Carnival Cruise Packing List on Flashpacker Family
---
No-one looks down on you for having a cocktail at 10.30am.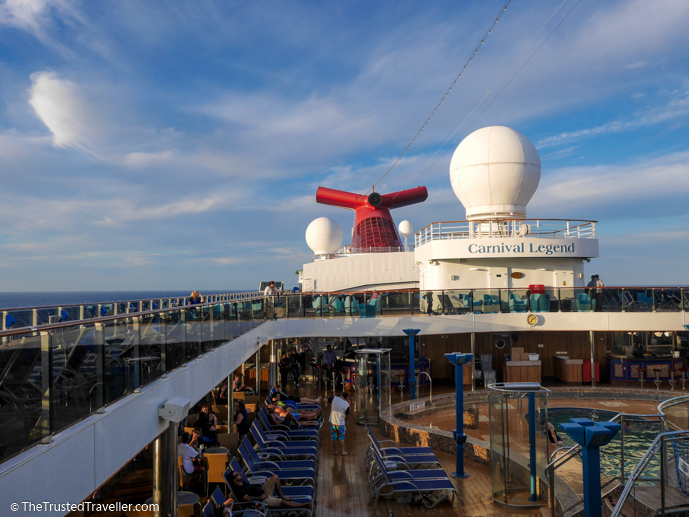 I'm not a huge drinker these days although when I have time to relax, usually on holidays, I do enjoy indulging in the signature beverage of area I'm exploring. Wine in New Zealand, beer in Germany etc. So on a cruise it's a must to have a cocktail or two (or three or four ……….), especially when they are as good as the ones on our cruise.
On our first morning we decided to head to the pool and soak up the sun. Little did we realise that people like to start drinking early on a cruise. 10:30am by the pool was apparently cocktail hour according to most of the guests. And while we ourselves didn't indulge before lunch time that day, the next morning sitting in the bingo theatre at 11:00am we joined the other guests in a morning cocktail and so began the trend for the rest of the day.
You don't have to feel guilty if you lay by the pool all day.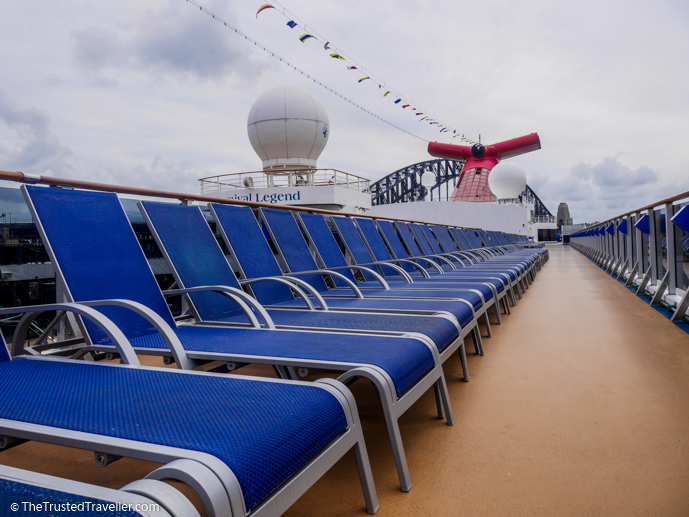 I don't know about you but when I go on holidays I always feel the pull to get out and make the most of every minute of my time. I think this may be my one and only chance to explore a destination and feel a little guilty if I don't.
However when cruising, one of the main objectives is to relax which helps takes the guilt out of laying by the pool all day. And while we didn't spend a whole day by the pool, we did enjoy a few hours completely guilt free one day and even had a nap there too. Bliss!
Everyone on-board is there to have a good time.
From the moment we arrived at the boarding gate, the buzz of people about to embark on the cruise was electric. There was a general sense of excitement and fun in the air which I definitely thought helped bring my mood levels to high point.
And because of the relaxing environment, most people were really friendly. We met some really interesting people over our long weekend and had some great chats over drinks and a meal with them.
The whole concept of a cruise is social and meant to bring people together, and our cruise did exactly that.
The cruise is generally calmer than longer cruises.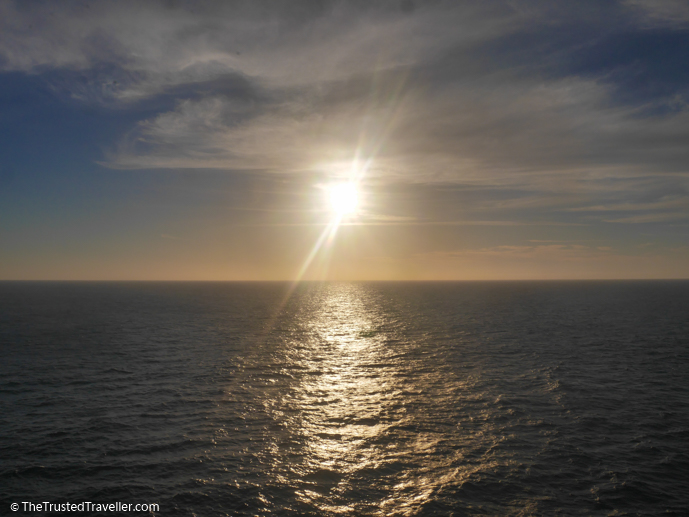 If you were cruising from Sydney to the Pacific Islands, the route is very limited and if bad weather strikes the cruise must go on and push through.
But because a cruise to nowhere is literally going nowhere, there is no set course. So if there is bad weather in one direction the cruise will take you the other way into calmer seas and bluer skies.
There are a cyclone in Queensland when we sailed so instead of our cruise going north, we tracked south along the coast toward Tasmania. The weather was blue skies the whole trip and we only came into some rough seas because of wind on the last night as we were heading back into Sydney.
---
Read More: Cruise Ship Blunders: Lessons Learned on Wanderlust Dietitian
---
PIN THIS FOR LATER!
---
Over to you!
Have you been on a cruise to nowhere? Did you enjoy it? If you haven't, does this type of travel appeal to you?
Let me know using the comments section below or join me on social media to start a conversation.
Thanks for reading and I hope you enjoyed this post.