Each month we will be laying out how much it costs to drive around Australia. We'll be telling you exactly how much we've spent each month of our great Australian road trip, what we've spent it on and what we could have done cheaper.
Find out what we spent in month 1, month 2 and month 4
We began month three in Adelaide catching up on work and getting ready for a big month ahead exploring lots of incredible areas of South Australia.
Our balance between work and travel became a bit easier this month too. I think after three months we've found what does and doesn't work for us which has made for a more comfortable month.
Quick Facts About June
Kilometres Driven: 3,700 km
Places Visited: 8
Favourite Place/Experience: KANGAROO ISLAND!!!!
Budget: $5,632.50
Money Spent: $5,736.43
Overspend: $103.93
---
Places We Visited
South Adelaide, SA – 5 nights
Kangaroo Island, SA – 4 nights
Port Elliot, SA – 5 nights
Murray Bridge, SA – 2 nights
Murray River Cruise, SA – 4 nights
North Adelaide, SA – 4 nights
Point Turton, SA – 5 nights
Whyalla, SA – 3 nights
Port Lincoln, SA – 5 nights
---
Highlights
Without a doubt the highlight of month three, and for that matter, our entire trip to date was visiting Kangaroo Island (thank you again SeaLink!). The place is so incredibly beautiful and abundant with wildlife, stunning scenery, both coastal and rural, and it is just so darn peaceful. We wish we had longer than four days but we really did make the most of those four days and saw the very best of the island including the amazing Flinders Chase National Park. We will be back though!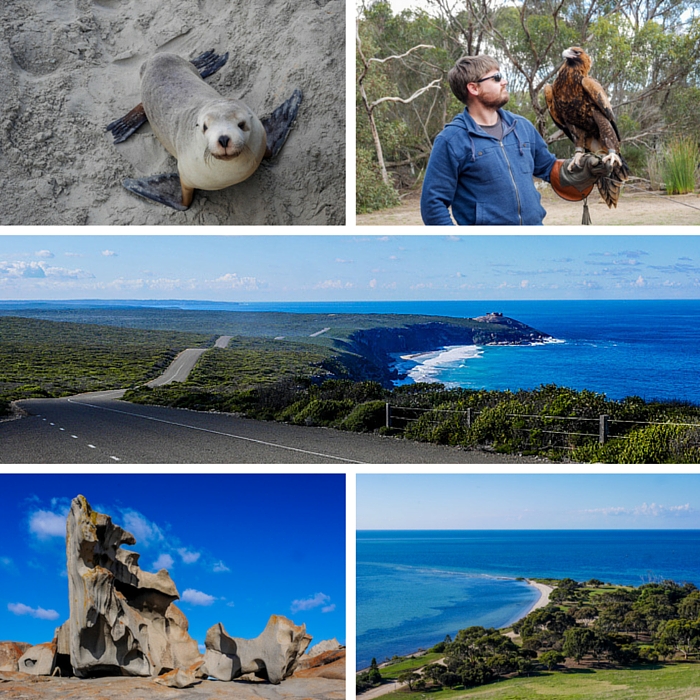 Coming in a close second to that was enjoying a four night cruise up the Murray River on the PS Murray Princess. Leaving from Mannum we cruised up the Murray towards Blanchetown making stops to enjoy a winery, sheep station and aboriginal cultural site. The highlight though was the food and exception service from the staff. You can read all about our Murray River cruise experience here.
Here are a few other things we enjoyed this month:
wine, beer and food tasting in Mclaren Vale;
seeing little penguins come ashore at night on Granite Island in Victor Harbor;
coastal walks along the Fleurieu Peninsula;
more wine, beer and food tasting the Barossa and Clare Valleys;
exploring Innes National Park on the Yorke Peninsula;
waking up with incredible sunsets at Point Turton Caravan Park;
driving north into the outback (for a little bit anyway) on our way to Whyalla; and
the spectacular coast form Whyalla to Port Lincoln.
---
Lowlights
We had none! Well the month wasn't 100% perfect but nothing went wrong and we enjoyed every place we visited. And there were no major spending blowouts when kept us happy too!
---
Expenses Breakdown
Accommodation
Budget: $2,000.00
Spent: $1,782.50
We stayed well under budget and even managed to book most of our accommodation for July too. I think getting a few good deals like $52.00 a night in Whyalla really helped. And we were also lucky enough to have two sponsored stays (four nights each) thanks to SeaLink Kangaroo Island and Captain Cook Cruises.
---
We could definitely do this trip cheaper if we camped or had a caravan, but that isn't our style. We have chosen to stay in self-catering accommodation which allows us to cook our own meals and occasionally have the space to relax comfortably. We believe it is very important to stay in accommodation that suits your travelling style.
---
Fuel

Budget: $300.00
Spent: $393.35
The cost of fuel on Kangaroo Island and on the Yorke Peninsula was a lot higher than we anticipated so there was a significant overspend here this month. But fuel is something we can't travel without so it can't really be avoided.
We are anticipating that fuel costs will get even higher in July as we hit the Nullarbor and Western Australia!
---
The cost of fuel in Australia can vary greatly depending on where you are. In bigger cities you'll find the cost lower, right now around $1.10 per litre for unleaded. However in more isolated rural areas, fuel could be as expensive as $1.50 per litre or higher.
---
Groceries
Budget: $650.00
Spent: $638.52
Woo hoo!!! We managed to stay under budget with our grocery spending this month for the first time. I think we can put it down to being smart about what we bought, especially when it came to meat. We've eaten a lot of chicken and mince meat but still managed to be relatively creative with our cooking so we don't get bored.
---
We've got a tub of staples like rice, pasta, oil, salt, pepper, spices, tea/coffee and spreads with us and pick up a few days' worth of groceries at a time. If we are staying somewhere for a week, we will bulk buy cheap meat to freeze and use throughout the week.
---

Eating Out / Entertainment
Budget: $650.00
Spent: $716.60
This is the smallest overspend we have had which we're pretty proud of. If you've read our other round up posts you'll know that eating out and alcohol has been a real problem for us every month. The biggest different this month is that we .
Here's a brief break up of where the eating out / entertainment money went:
Lunch – $202.95 – seven lunches, mostly from pubs, bakeries and quality takeaways.
Dinner – $87.00– two meals, one pub dinner and the other chicken and chips takeaway.
Snacks – $31.65 – mostly takeaway coffees and morning/afternoon tea form bakeries.
Alcohol – $395.00 – takeaway beer and wine purchased at the many breweries and wineries we visited.
---
This is an area we always struggle in because eating out is a big part of travel for us, hence why we have such a big budget for it. One thing we have been doing to help keep these costs down is researching special nights at the local pubs and clubs. They all have at least one night where you can get a something like a beer/wine and meal for a discounted price or maybe a night where a certain dish is discounted.
---
Activities
Budget: $450.00
Spent: $761.20
We were over budget here because we didn't factor in Mick doing a shark cage dive in Port Lincoln. We thought we would be paying for it in the new month (July) but we ended up booking ahead to avoid him missing out. Here is a breakdown of what activities we paid for:
Cape Willoughby Lighthouse, Kangaroo Island – $6.00 – fee to enter the grounds.
Raptor Domain, Kangaroo Island – $46.00 – a one hour presentation of Bird of Prey plus we paid the additional $10 for Mick to hold the wedge-tailed eagle.
Cape Bourda Lighthouse, Kangaroo Island – $6.00 – fee to enter the grounds.
Granite Island Penguin Tour, Victor Harbor – $30.00 – one and a half hours after dark on the island with a guide looking for penguins coming ashore.
Steam Exchange Beer Tasting, Goolwa – $13.20 – a tasting paddle of all their brews..
Smiling Samoyed Beer Tasting, Myponga – $10.00 – a tasting paddle of all their brews.
Monato Zoo, Monato – $69.00 – day entry to the zoo.
Bingo on the Murray River Cruise – $16.00
Pike Brewery Beer Tasting, Clare Valley – $10.00 – a tasting paddle of all their brews.
Innes National Park Entry – $10.00 – day entry to to the park.
Shark Cage Dive, Port Lincoln – $495.00 – full day excursion from Port Lincoln including all meals and a dive with the Great White Sharks.
The Fresh Fish Place Tour – $50.00 – a behind the scenes tour of the factory with seafood tasting.
---
Having the money to see and do everything we want in each place is important to us as we may never make it back to these places again.
---

Bills
Budget: $1,132.50
Spent: $1,152.05
Most of these costs will occur every month except for car maintenance, medicines and internet. We went over because we didn't anticipate needing oil for the car and we got a small chip in the windscreen and purchased a self-fill kit to fix it. Both were minor costs so no big deal.
Here's a breakdown of our bills for the month:
Car Repayment – $483.00
Car Maintenance – $69.75
Car Insurance – $71.62
Health Insurance – $168.90
Mobile Phone Plans – $148.98
Internet – $140.00
Medical – $69.80
---
Unfortunately bills are a reality of life, but there are many ways you can reduce them to give you more money for travel. We refinanced our car loan to bring down the repayments, shopped around for insurances to make sure we were getting the best deal and put our health insurance on the lowest plan as we are both young and healthy.
---
Online Business Expenses
Budget: $250.00
Spent: $100.16
We have a few re-occurring costs to run this blog and our online business, plus things that extra things pop up from time to time. Pretty much the whole amount spent was on monthly fees for tools we use. We came under this month as we over-budgeted for any unexpected things.
---
Other Bits & Pieces
Budget: $200.00
Spent: $192.50
This section incorporates the things that don't fit into other categories and a bit of extra money for unexpected expenses. Here's a break up of where it went:
Parking – $3.00 – a few places we've had to pay a small fee for street parking in towns.
Car Wash – $15.95 – we took the car through the car wash as we haven't had the space to wash it by hand all month.
Laundry – $16.00
Haircut – $25.00 – Mick needed a haircut as he hadn't had one since before we left home.
Clothes – $100.10 – we both needed a few new items of clothes and underwear which we picked up cheaply in Target and Kmart.
Playing Cards – $3.00 – a new deck of cards so we could play a game taught to us be a new friend we met on our Murray River Cruise.
Mobile Phone – $29.00 – we purchased a cheap Telstra mobile phone to use when we head into more remote areas where our Vodafone phones won't get reception. We are unfortunately locked into contracts with Vodafone for a few more months.
---
It's important to have a bit of extra cash to help pay for those unexpected things that come up. When you are on the road, you just never know what might happen.
---
What We Need to Do Better
Eating out still needs a tiny bit of improvement especially visiting wineries and breweries which we will be doing less of in July because there won't be as many to visit.
Other than that we had a pretty awesome month budget wise and are happy with what we spent.
---
What's Happening in July
In July we leave Port Lincoln and start to make our way to Western Australia. First stop is Streaky Bay on the Eyre Peninsula and then a few roadhouses along the long stretch of road that is the Nullarbor.
We will then be exploring the south-west of Western Australia stopping in Esperance, Hopetoun, Albany, Manjimup and Margaret River before arriving in Perth where we will be staying put for at least a few months while we work, save and explore the area around the city.
---
Disclaimer: This page contains affiliate links. If you found this article helpful, please consider using them to book your trip. It costs you no extra and helps to keep The Trusted Traveller running.
---
PIN THIS FOR LATER!
---
Over to you!
What did you get up to in June? What are your travel plans for July?
Let me know using the comments section below or join me on social media to start a conversation.
Thanks for reading and I hope you enjoyed this post.