For the past 12 months we have been saving and preparing for the biggest adventure of our lives to date, an indefinite road trip around Australia.
We depart in less than a month now and can safely say we are just about 99% prepared (we're leaving a 1% leeway for the inevitable forgotten item or task). We've reached our savings goal thanks to 12 months of hard work and selling everything we own. And we've purchased and prepared everything we need to hit the road come March 29.
Each month, once we hit the road, we'll be outlining our monthly expenses so you can get an idea of the cost of driving around Australia. So expect the first trip report at the beginning of May after our first full month of travel.
But on the road costs aren't the only ones you need to be prepared for when planning to drive around Australia. The pre-trip costs can be quite significant too so we thought it important to share these with you too.
Below is a run down of pretty much everything we have spent in preparation of our trip. We hope this will help you prepared for a big adventure driving around Australia.
The Cost of Driving Around Australia – Pre-Trip Costs
All amounts are in Australian Dollars.
Vehicle – $3,500.00
We bought a used 2010 Nissan X-Trail with 90,000 km's for $15,500. We traded in our old vehicle for $12,000 so only had to pay the difference out of pocket. We still however have the old personal loan to pay fortnightly which will be incorporated in our monthly budgets.
Car Insurance – $864.00
This is the cost to insure our vehicle for the full year however we pay monthly installments of $72 to help make it more manageable for us. We did lots of price and coverage comparisons when we purchased our car and found that Budget Direct had the best comprehensive cover at a reasonable price.
Registration – $550.00
It just so happens that our cars registration is due for renewal right now. This will be a cost we'll have to pay this time every year.
Full Car Service – $1,000.00
To ensure our car is in perfect working order we sent it off for a full service to ensure everything is running perfectly. We now shouldn't need to do this again until we get to Perth however they did tell us that new tyres might be needed before then which we will arrange in Adelaide.
Spare Car Key – $120.00
Unfortunately our car came with only one key. So just in case something happens to that key in the middle of outback we thought it best to get a spare made up. Because keys these days have electronic parts they don't come cheap. We shopped around though for the best deal.
Car Mats – $8.00
In an attempt to keep the car as clean as possible, we bought car mats. We just went with a cheap set from Kmart and hope they keep the dirt on the mats and off the carpet of the car.
Windscreen Shade – $5.00
Another Kmart bargain, this will come in handy to keep the car cool when we have no choice but to park in the baking Australian sun. Keeping the car cool will mean we use the air conditioning less and save on fuel costs.
Rubbish Bin – $5.00
We bought a small rubbish bin that fits in between the front seats so we can put rubbish in and keep the general car area clean. We picked this up in Bunnings.
Dustbuster – $12.00
This compact wet and dry vacuum will be super handy for keeping the car clean and takes up next to no room. It was also a Kmart bargain.
E-tag – $35.00
Australia's toll-roads are cash and card free these days so an E-tag is essential. The one we purchased can be used in all states and territories of the country. This cost was just to set up an account and receive the device itself. We will then we charged the relevant fee straight from our bank account each time we drive through a toll gate.
Portable Jumpstart & Compressor – $115.00
While we won't be travelling too far off-road as this isn't really our style, we will be travelling on some quite roads. So having this two in one device will be handy if we break down or get a flat tire.  We purchased it from Supercheap Auto and monitored the price for a few months so we got about $70 off in a sale.
Jumper Cables – $43.00
Also in Supercheap Auto we purchased a set of jumper leads so that if we do break down and there is other cars around to help get us started we have the leads ready to go.
Fuel Can – $30.00
When we get out into the outback where petrol stations are few and far between we need to ensure we have spare fuel in case of unexpected circumstances. We bought this 20L empty fuel can which we can fill when needed.
Motor Oil – $17.00
We bought a small amount of motor oil to have on hand in case of a break down in a remote area. Supercheap Auto have a big range oils and make sure you pick the right oil for your vehicle.
Spare Water Container – $16.00
When travelling in remote areas it is important to have enough spare water for everyone travelling in case you end up being stuck overnight or longer. We opted for a 10L container and will also be travelling with a bunch of smaller bottles.

Portable Fridge – $669.00
So we can cook our own meals mostly and keep our food fresh, we purchased a portable Waeco fridge for the boot of the car. We did a lot of research on this and monitored prices for months until the perfect deal came up at Anaconda and we got it for about $200 off. We opted for the 40L because we thought this would be a good size for us and it fits neatly in the back of the car.
Portable Kettle – Free
Gifted to us from Jen's parents, this handy little kettle plugs into the cigarette lighter and boilers water for a cuppa in just a few minutes. Perfect for a roadside stop.
Storage Tubs – $125.00
To store most of our stuff in the car we opted for large plastic storage tubes with one for each type of item. We bought 5 tubs from Bunnings ranging from 40-20L to store dry food, toiletries, bits and pieces and extra clothes.
Small Picnic Table & Chairs – $19.00 (table only)
We picked up a compact folding table from Bunnings that we can use roadside for pit stops and already had two compact camping chairs which are perfect for this trip.
Australia Map Book – $50.00
Although we will be travelling with our GPS (which we've had for years), we also wanted to have a map book and big fold out map of the country with us so we can get a better idea of where we are going and follow our route along the way. HemaMaps are known as the best in the business here in Australia so that's what we went for.
Laptop – $970.00
When we sold everything one of those things was our desktop computer. So to replace it and make us more mobile we purchased a new laptop. As with everything we purchased, lots of research was done and prices we monitored for months before we pounced on a deal at JB Hi-Fi for a Dell Inspiron 15 3000 Series with Core i7 and 8GB ram and 15″ screen. This price also included Office 365, a new mouse and a carry case. We've been using it for 2 months now and love it!
4G Device – $129.00
Because Telstra has the best coverage in Australia we bought one of their 4G devices to keep us online as we travel. Our device came with 3GB of data to get us started.
External Hard 

Drive – $129.00
To store a back up of all of our documents and photos as we travel we purchased an external hard drive. We've always used Seagate and purchased a 2TB drive from Officeworks on special.
Toiletry Bags x 2 – $55.00
We picked up 2 hanging toiletries bags that are big enough to hold all our essentials for a few days in each place we stop at. The hooks are super handy for keeping the bag of the wet shower floor.
Toiletry Bottles – $22.00
So we don't have to lug too much stuff into each new hostel or cabin we stay in, we will be using small toiletry bottles that hold enough for each stay and keeping the bigger bottles in the car. We purchased a dozen little bottles from a discount shop.
Space Saving Storage Bags – $40.00
To keep our linen and pillows clean and compact we grabbed a few packs of space bags from Howards Storage World.We won't be using these things all the time so having them neatly packed away is a great idea.

Packing Cubes – $200.00
This was a bit of an investment for us. We've been using packing cubes for a few years but haven't been able to find any that last longer than a trip without ripping. Enter the Zoomlite packing cubes! We bought 4 sets of 4 before we moved out of our apartment and have been using them to live out of ever since. The quality is fantastic! (Read our review here.)
Basic Kitchen Supplies – $100.00
While we already had a bunch of essentials left from our apartment, we purchased a few other bits and pieces from Big W in the Christmas sales. Things like a large sharp knife that comes in a safety gard, a set of plastic food containers and plastic bag clips. While we will find most of these things in the hostels and cabins we stay in, the quality is usually pretty bad so having a few of our own things will come in handy.
TOTAL PRE-TRIP COST – $8,828.00
While this seems like a lot of money (it totally is!) we have deemed all of the things above to be essential for our trip. Everyone's trip will be different and everyone has different needs, levels of expectation and comfort levels that need to be taken into consideration. The pre-trip cost for you to do this trip could be a small percentage of this if you feel comfortable going without these things. Or higher if you have other things you deem essential.
---
PIN THIS FOR LATER!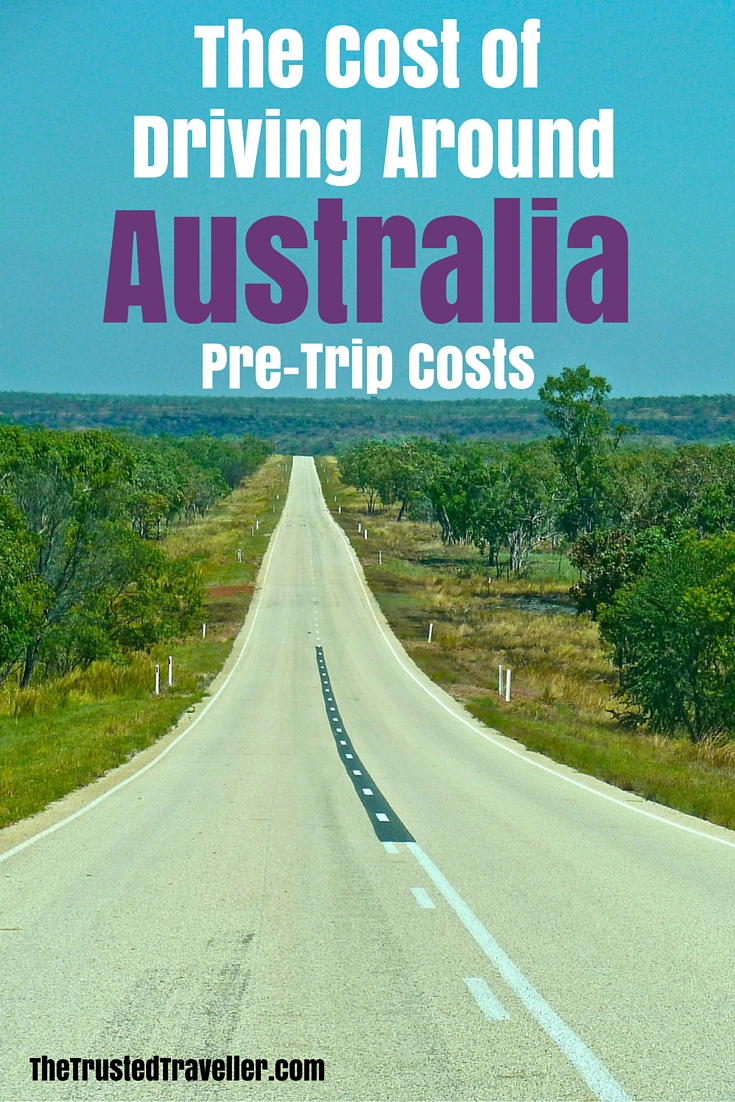 ---
Over to you!
WHAT HAVE WE FORGOTTEN!?
Let me know using the comments section below or join me on social media to start a conversation.
Thanks for reading and I hope you enjoyed this post.