We were filled with anticipation arriving into Batemans Bay, the first official stop on our indefinite road trip around Australia. It was an exciting time, taking off on a new adventure to discover as much as possible. And to add to that excitement we were also looking forward to our stay at the Bay Breeze Boutique Motel.
Once we were booked in to the one and only penthouse on the property, we did some looking around on their website and loved what we saw. We knew then that this wasn't going to be your average Aussie motel. Their website eludes to a sense of luxury that is very hard to find in a motel.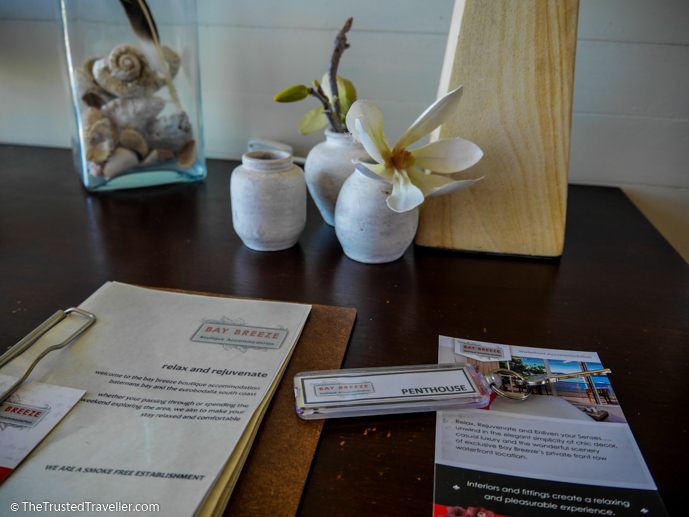 Arriving slightly early for check in (2pm is check in time), we were greeted by the lovely Kerry who works at the motel Monday through Friday. We had a good old chat with her about the motel and our travel plans before she took us upstairs to the penthouse.
We were expecting it to be pretty flash but boy did it blow our expectation out of the water. When Kerry opened the front door we were immediately greeted by the view looking through the dining and living areas out over the Clyde River and the sail boats moored near the shore.
Kerry took us from room to room showing us the ins and outs of our fully equipped two bedroom penthouse that we'd be calling home for the next two nights. To say we were impressed is an understatement. And once Kerry left us with the keys we wandered and explored the expansive space on our own.
Bay Breeze Boutique Motel: Luxury on the Eurobodalla Coast
Spacious and Homely Living Areas
The living area is split into two but still has an open plan look and feel with the lounge area separated from the dining by two steps down and a white painted wooden bannister.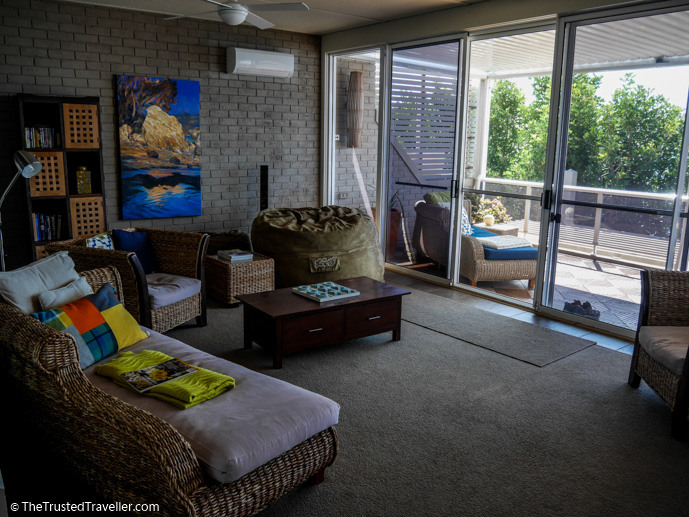 The first thing I notice is the textures. There's an exposed brick wall (something I have always loved) running down one side of the room and a white painted wood paneled wall opposite. The carpet is so soft underfoot and the steps connecting the rooms are shiny and perfectly polished.
The textures continue in the living room furniture with wicker style seating covered in soft cushions and throw rugs. And then there's the ultra comfy love sack, Mick's favourite seat during our stay.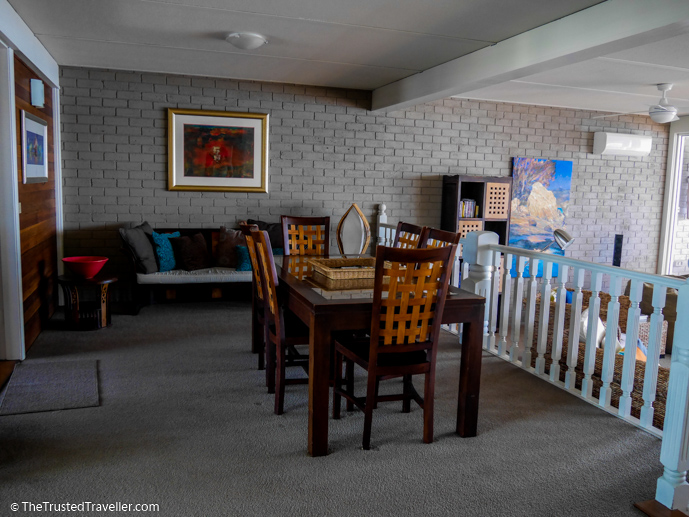 I must say we were very comfortable spending an evening in front of the decent sized TV relaxing after a busy day.
A King Sized Bed with Views
The penthouse has two bedrooms, allowing accommodation for up to four adults. The master and a decent sized second bedroom with queen bed and big picture window. Of course we enjoyed the comforts of the master.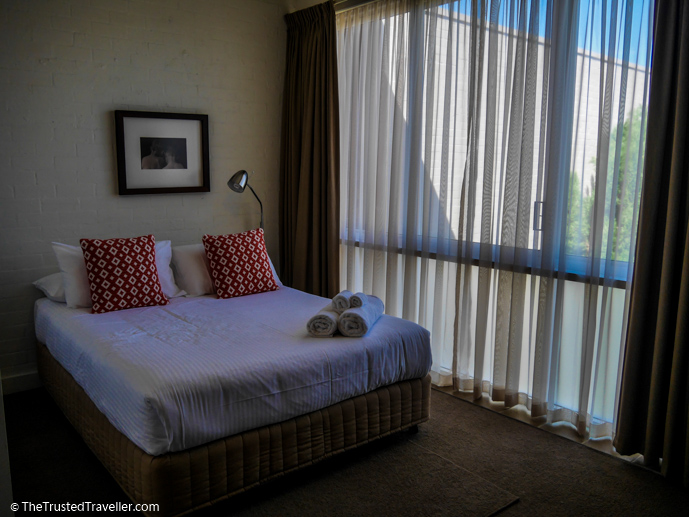 Again it's a few steps down into the master bedroom which is furnished with a firm yet cosy king sized bed, desk and chair and a single dark leather lounge chair with foot rest. The room is very generously sized with ample cupboard space which would be handy for longer stays.
The exposed brick wall and opposite wood paneling continues in the master, as does the soft carpeting. And to help ensure you get a sleep in, there are block out curtains over the window which do their job well.
But it's again that view out of the floor to ceiling, wall to wall sliding doors that lead onto the terrace, that really wow's us and makes this one of the most luxurious rooms we've slept in. Opening the curtains in the morning to a perfect blue sky day, hoping back into bed and enjoying the view, really couldn't be more indulgent.
Double Shower and Skylight Lit Bathroom
If the living and sleeping areas aren't luxurious enough for you, then the bathroom will surely push you over the edge.
A double shower, something we've never seen before, is the centrepiece of the room. You get the choice of two different shower heads, rain water or hand held, in a large open wet room style shower. It's tiled with large tiles which make the space seem larger.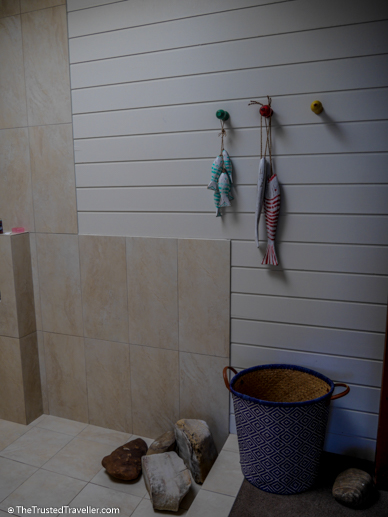 Above is a skylight which lets in just enough light to eliminate the use of traditional lighting during the day. I personally found that there was something quite indulgent about showering here. With the natural light and rain water shower head, it almost felt like I was showering outdoors.
Fully Equipped Sunken Kitchen
Just off the dining area, again down a few steps, is the penthouses own fully equipped kitchen. The space is decked out with every appliance you could need, from oven and stove top, big stainless steel fridge, dishwasher and coffee machine.
There's amply bench space for preparing meals, lots of natural light from the big picture window and all the utensils and crockery you can think of.
We cooked on our first evening there and found the kitchen to be easy to use, just like home.
Oh That Terrace!
But really all of the above is nothing when compared with the terrace.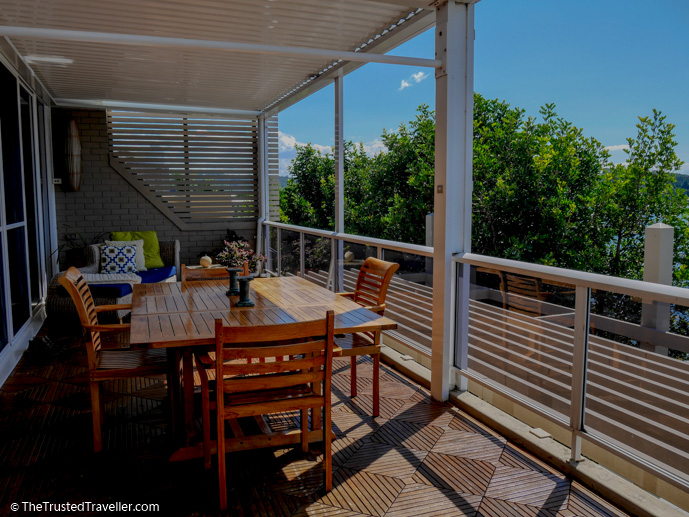 Leading off the living room and master bedroom, the terrace which overlooks the bay, is quite simply stunning and the place where we spent the majority of our time. It takes up the entire width of the penthouse, with more than ample space.
It's equipped with a large outdoor table and chairs for four people, full sized BBQ and a chase lounge draped in a soft blanket. It catches the sun for the first half of the day and then shades over to protect from the hot afternoon sun.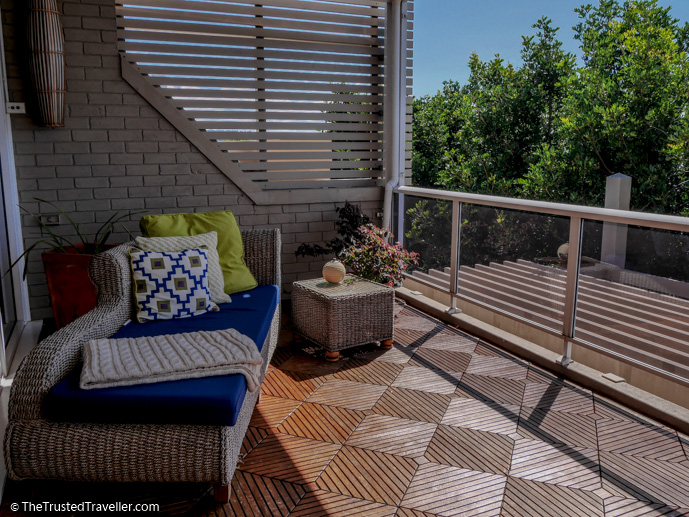 We ate our meals on the terrace, worked there on our laptops, had a few wines out there, watched the sun rise over the water and I even napped on the chase lounge one afternoon wrapped in a blanket to protect me from the light cool afternoon breeze.
Every house or apartment has one space that really defines it, and for this penthouse it's without a doubt the terrace. It exudes luxury and comfort.
We Will Return
Bay Breeze Boutique Motel is sophisticated yet comfortable. The owner and staff have done an excellent job making this a unique place to stay in a town full of caravan parks and mediocre motels. Their attention to detail and sense of style is how we will most remember it and we can't wait to return there one day and stay a while longer.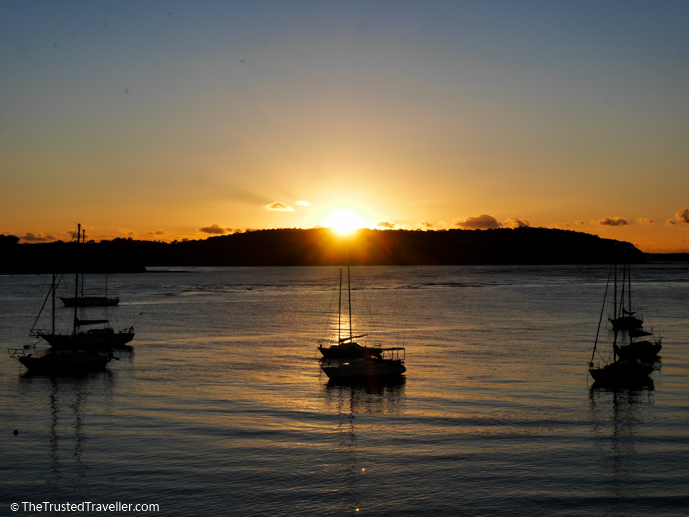 The Details
Bay Breeze Boutique Motel has eight rooms available; four waterfront suites, three suites at the rear of the building and a two bedroom waterfront penthouse.
It is located right on the waterfront with direct access to the Batemans Bay waterfront walking path and just minutes walk to the restaurants and shops in the centre of town. There is ample parking onsite for all guests.
Address: 21 Beach Rd, Batemans Bay
Website: http://www.baybreezemotel.com.au/
We would like to thank Alison and the team at Bay Breeze Boutique Motel for hosting us and Eurobodalla Tourism for making it happen. As always, all opinions expressed in this review are our own and were not influenced in any way by receiving a complimentary stay.
---
PIN THIS FOR LATER!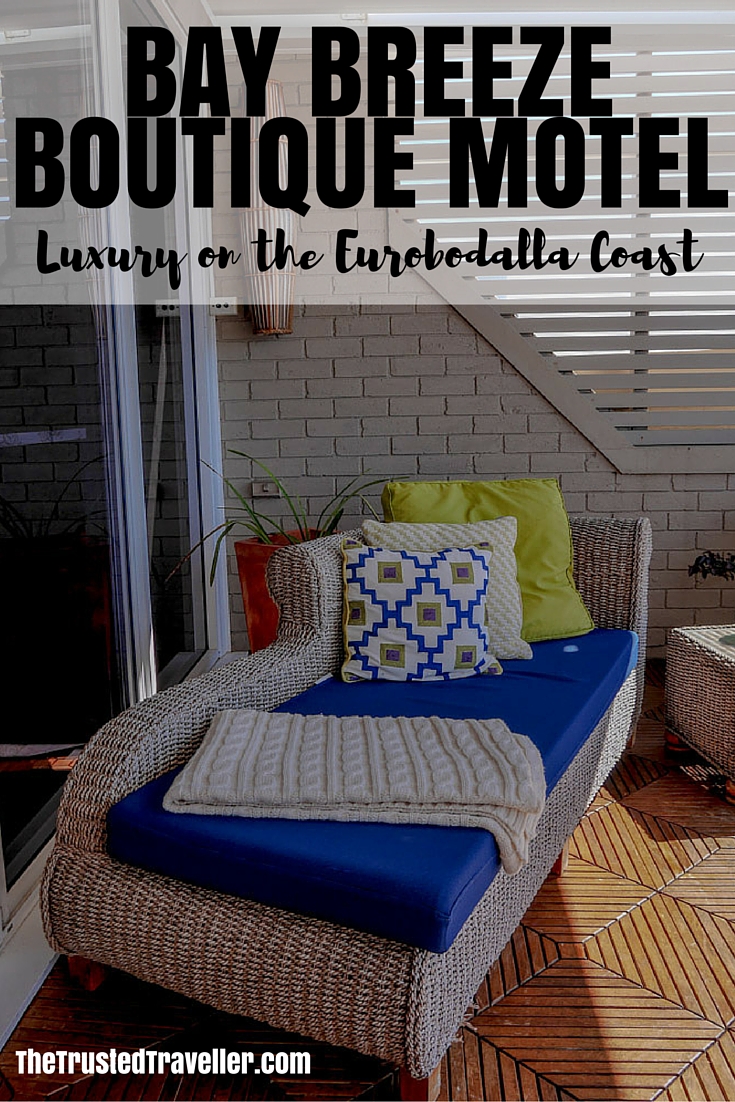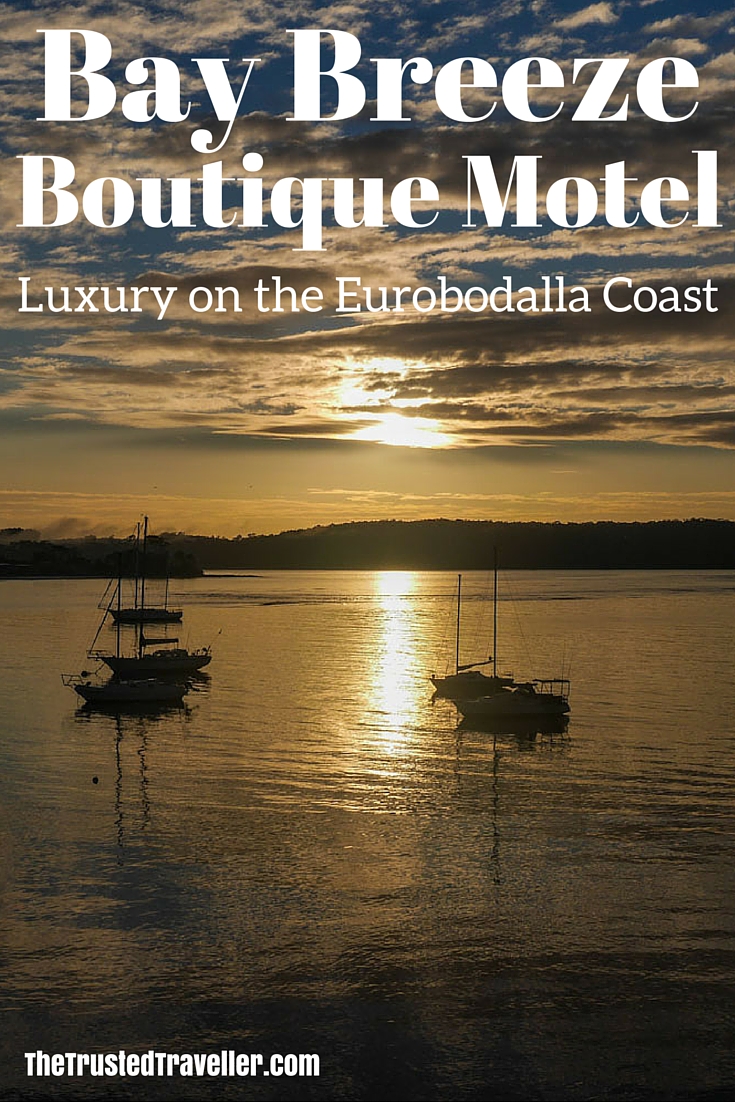 ---
Over to you!
We'd love to hear about some of the best places you've stayed!
Let me know using the comments section below or join me on social media to start a conversation.
Thanks for reading and I hope you enjoyed this post.