I really wasn't sure what to expect arriving in Christchurch. I've never visited a place where such devastation has happened so recently.
In the weeks leading up to my trip, questions circled my head. I wondered if I really should visit Christchurch, how would it make me feel, would there be anything to see and do and most of all would I be safe?
Back in February 2011 I remember being glued to my TV watching the almost round the clock coverage of one of the most devastating earthquakes to hit New Zealand ever. I watched as rescuers miraculously pulled survivors from the rubble of some the city's tallest buildings and I sadly watched the death toll rise.
I was shocked, saddened and felt completely helpless. My hearth ached for those who were affected and the ones who tragically lost their lives.
It's now been over three years since that mortifying day and the multi-billion dollar project to rebuild the city is well under way. Around 1,000 of the city centres 4,000 odd buildings had to be demolished because of structural damage and that task is just about completed.
The city streets that were closed off for over 2 years, known then as 'The Red Zone', have been opened again, although with the large amount of construction going on around the city centre, you will find temporary closures from time to time.
The rebuild is expected to continue for years to come, and it wouldn't surprise me if in a decade's time it is still going. Rebuilding a city almost from the beginning is a monstrous job but it's also an opportunity to do it right and create something that will one day rival world class cities around the world.
Now just because the rebuild is still in its early stages doesn't mean you should stay away until it's completed. No way! You need to get in now, support this city and see it blossom from the rubble into what could possibly be one of the world's most desirable places to visit one day.
Christchurch is being transformed with a creative edge by not just the usual architects and city planners. Input has been sought from creative minds in all walks of life to help build a unique, creative and well planned out city.
New and exciting areas are popping up regularly in the city centre and out into the suburbs, breathing a new lease on life to not just the areas worst effected but others that have been re-purposed because of what has happened.
It's an exciting time to visit any city allowing you to be one of the first to experience these new, creative spaces.
All concerns I had about visiting Christchurch disappeared from my mind soon after arriving. I found myself being intrigued by all the commotion of construction going on. I started to picture how the city will eventually look and I liked what I saw.
So I want to tell you, don't stay away! Get over there now and discover the vibrant, exciting and promising city that I did and help support the locals. Here are a few reasons why you should visit Christchurch NOW.
Commemorate the Fallen City and Its Residents
First and foremost I think it is important to commemorate a city where such terrible things have occurred. Take a moment to reflect and remember the lives lost (even if you didn't personally know one of them).
You can do that at two adjacent sites within walking distance of the city centre.
185 Empty Chairs is an open air art installation of exactly 185 chairs in all shapes and sizes painted white. The number 185 is significant because it is the number of people who lost their lives during, and as a direct result of the February 2011 earthquake. Your free sit on or walk around the chairs and there is a small information board to the left where you can read more about the installation and the concept behind it. I really like the quote below which is from the information board.
"The individuality of each chair pays tribute to the uniqueness of each person represented."
Just across the road is a building that is becoming one of the new symbols of this developing creative city, ChristChurch Transitional Cathedral or as it is more well know, the Cardboard Cathedral.
The city's original ChristChurch Cathedral was badly damaged in the earthquake and its future is still uncertain. The Transitional Cathedral is now operating as the temporary home of the church and is the only church in the world made mostly out of cardboard.
It made the news all over the world when it was built so I was very interested to see it for myself and I wasn't at all disappointed. Of course looks wise it is nothing like the original cathedral or any other cathedral I have seen for that matter.
You can however still use the church just as you would any other. They hold regular services and occasional concerts and commemorations you can go along to.
Being one of the first of the city's new creative spaces, it is really the perfect place to visit, maybe sit for a few moments and commemorate Christchurch and its residents.
Learn More About the Earthquake
It is my belief that you shouldn't visit a place where such a disaster has occurred just to gawk and take photos. Walking or driving around Christchurch, it's hard not to notice the scars left on this city. It can be confronting to some and really make you think more deeply and want to learn more about how this occurred and of the stories rising from the rubble.
One of the city's newest attractions (I use the word attractions for lack of a better term) will help you do just that.
I was with friends who live in Christchurch, walking through the Re:Start Mall on Cashel St when I first saw Quake City. My first reaction was that it was in really bad taste to have an earthquake themed attraction in a city that is still clearly recovering from such a disaster. This is why I didn't visit.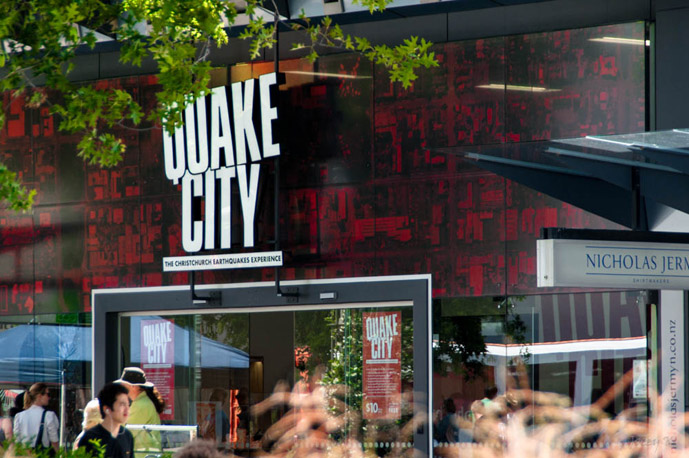 When I got home from my trip and read a bit more about it my opinion started to change. If I didn't have friends who lived through the earthquake and have over time had lots of stories to recount to me, I would probably be inclined to visit Quake City next time I'm there.
From my research into Quake City I discovered it is more than a tacky, badly timed attraction. The museums aim is to inform, engage and educate visitors to Christchurch about the earthquakes that have occurred in the city and surrounding Canterbury region. Through interactive displays you can learn about liquefaction and the science behind earthquakes. Read, watch and listen to recounts from survivors, loved ones of those who lost their lives and learn more about the efforts of rescuers.
 Like I said, I haven't personally visited Quake City but from what I have researched out of my own curiosity, it seems to be the perfect place to get look at the bigger picture.
Be the First to Enjoy New Creative Spaces
The transformation of Christchurch isn't just happening in the quake effected areas. Before the quake most of the city's decent bars, restaurants, shopping and entertainment precincts were right in the centre of town. With the quake having destroyed most of that and the city centre being closed for the best part of two years, suburbs less effected have started to transform to give business a place to start again and locals a place to spend their free time.
Head to Addington which was the first area to regenerate after the quake. Along Lincoln Road south of Moorehouse Avenue you will find bars, cafes and restaurants, one after another with each one packed day and night. Start your day at the Addington Coffee Co-op, have lunch or dinner and a few drinks at Morrell & Co and finish the night off at Dux Live for some craft beers and live music.
Sumner, one of the worst effect suburbs, is now alive with events throughout the year, a weekend market with live music and food stalls and plenty of cafes including my favourite Joe's Garage. Plus the main street is just seconds walk from the beach.
And then there is the regeneration of the city centre and the new precincts that are slowly starting to take shape. The place to be right now is the Re:Start Mall on Cashel Street where you will find the container mall. Basically shipping containers were brought in as a quick and easy way for retailers to open up again and the idea has really taken off and attracts not just locals but people from all over the world who want to see this unique and funky shopping precinct.
While you're in the Re:Start Mall make sure you grab a souvlaki from Dimitiris food truck. It's a Christchurch institution and well worth the wait!
I could keep going on with all the creative and functional new areas regularly popping up across the city centre and suburbs. Get there now to be the first to explore them.
Support Those in Need Without Realising
If like me you sat at home in other parts of the world watching the TV coverage of the earthquakes feeling totally helpless and wishing there was something more you could do then a visit to Christchurch is the perfect thing to do.
If you plan right and only spend you your money with local businesses rather than big name worldwide chains then the money that you spend will be injecting some much needed funds into a community that is quite frankly drowning in debt.
The estimated total cost to rebuild the city goes up every few months as they discover something new that needs to be done. We are talking billions and billions of dollars that the insurance companies just don't have.
So every cent you spend, while it might not directly help the city and its people, it will indirectly boost the economy and help the city rise from the rubble faster.
There is Still Plenty of Beauty Left in The Garden City
Known as The Garden City, Christchurch is famous for its well keep gardens and public green spaces and that hasn't changed.
Right in the heart of the city centre is The Christchurch Botanic Gardens and Hagley Park. Surrounded by rubble and condemned buildings, once you are a few steps inside the gates you honestly wouldn't know what's on the other side of the trees.
Within the grounds you can explore on foot or bike along the gravel paths to well-planned out gardens, past bed of mass planted flower beds and stop for a rest under some of the most impressive trees I've seen in all shades of green, red, orange and brown. Or you can climb aboard a small punting boat for a punt along the river Avon.
It's an oasis of calm in the middle of a city bursting with construction.
It's Not All Positive
Want to know more about and keep up to date with Christchurch's constant and ongoing battle to rebuild? The New Zealand Herald has an entire section of their website completely devoted to the earthquakes and subsequent rebuild.
Get deeper and build awareness of what is really going on. Read about the day to day struggles the city's residents face like major loss of housing and insurance shortfalls for thousands of residents. There is more to the story than just the rebuild.
---
Read More: Two Week New Zealand South Island Road Trip Itinerary
Be Inspired: 43 Photos to Convince You to Visit New Zealand's South Island
---
Over to you!
Have you visited Christchurch since the earthquake? How did it make you feel? Maybe you have been to a similar place that has experienced similar loss, tell us about your experience.
Let us know using the comments section below or join us on social media to start a conversation.
Thanks for reading and we hope you enjoyed this post.