New Zealand's spectacular South Island is on the bucket list of many people right around the world. We've taken many trips over the pond to visit what is our favourite part of the world and we want you to discover it for yourself too! So we've put together this two week New Zealand South Island road trip itinerary that is perfect for a first timer to the region.
This itinerary doesn't cover everything New Zealand's South Island has to offer, that would be impossible to fit into one two week vacation. But what it does offer, is an introduction to the absolutely best.
From snow peaked mountains, rugged coastline, seemingly never-ending fjords and adventure to boot. New Zealand's South Island is a destination for everyone.
We hope this road trip itinerary helps get you excited about a trip to one of the worlds most utterly beautiful regions.
Two Week New Zealand South Island Road Trip Itinerary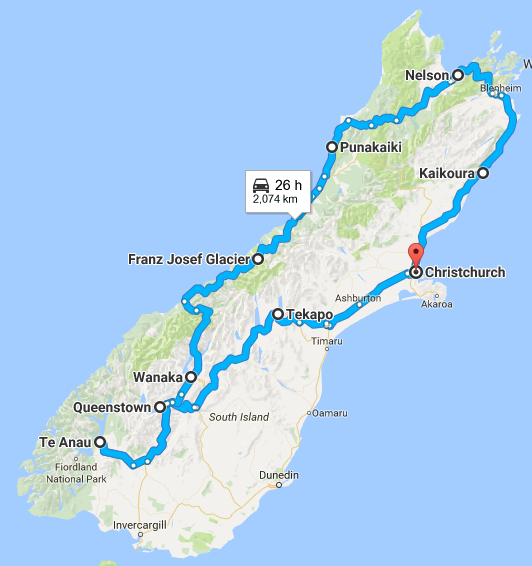 Day 1 – Christchurch
Arrive in Christchurch early in the morning, or better yet, the evening before to really maximise your time.
Christchurch is rising from the rubble of the devastating 2011 earthquakes and turning into one of the world's most creative cities. There is still a lot of construction going on (and there will be for some time) but 'The Garden City' is well and truly open for business with lots to offer visitors.
What to See & Do in Christchurch
Christchurch Botanic Gardens – This is the biggest green space in the city centre. See colourful flower beds, massive shady trees, duck ponds and green houses containing specialist plant species. Take a punt along the river Avon or a walk on the long winding gravel paths that meander through the park.
Cathedral Square – Cathedral Square has been the heart of Christchurch since the mid 1900's and continues to be just that despite the earthquake devastation. Visit the square to see what remains of the Christchurch Cathedral, learn more about the cathedrals history and future in the temporary viewing hut and pay your respects at a memorial made of hundreds of pebbles held inside a wire frame. Markets and festivals are also held here through the year.
Cardboard Cathedral – The new symbol of this developing creative city, the Cardboard Cathedral, opened in 2013 as a temporary church for the badly damaged ChristChurch Cathedral. What makes this one of the most unusual churches in the world, is that it's partly made of strong cardboard.
185 Empty Chairs – An open air art installation of exactly 185 chairs in all shapes and sizes painted white commemorating the exact number of people who lost their lives during, and as a direct result of the February 2011 earthquake.
Re:Start Mall – The place to be now in the city centre is the Re:Start Mall which changes its location as construction around the city happens. After the earthquake the city was looking for a quick and simply way to get small shop owners and shoppers back into the CBD while the major redevelopment goes on. What they came up with, a mall made of shipping containers, was brilliant and made headlines all over the world for its playful and creativeness.
Where to Stay in Christchurch
Here are three accommodation options to suit all budgets that we recommend you check out. All are centrally located, highly rated and come with excellent facilities.
Budget
Haka Lodge
This lodge offers a choice of shared and private accommodation, situated just 10 minutes' drive from Christchurch city centre. Free Wi-Fi and access to shared kitchen and living room is available to all guests. They also have one two bedroom apartment with private facilities. Book Now
Mid Range
Quest Christchurch Serviced Apartments
Just a three-minute walk from Cathedral Square, Quest offers studio, one, two and three bedroom apartments most with fully equipped kitchen and private balcony. Al have SKY TV with continental breakfast and parking are available upon request. Guests received unlimited free WiFi. Book Now
Luxury
The George
Overlooking Hagley Park and the River Avon, The George is a luxurious 5-star boutique hotel. All rooms are spacious, featuring contemporary furnishings and modern bathrooms. Guests can enjoy free Wi-Fi, LCD TV, digital movie system and complimentary bathroom toiletries. Book Now
---
Read More: Things to Do in Christchurch | Why You Should Visit Christchurch
Be Inspired: Christchurch Photo Gallery
---
Day 2 to 3 – Lake Tekapo/Mt Cook
Drive Time: 3 hours from Christchurch to Lake Tekapo
Leave Christchurch early on day two and drive towards Lake Tekapo and Mt Cook.  Spend the rest of day 2 exploring the region and continue your sightseeing on day 3.
One of the most picture perfect regions of New Zealand, the Mackenzie Basin, home to Lake Tekapo and Mt Cook Village, lies roughly in the centre of the South Island between the sprawling plains of Canterbury and the towering mountains of the Southern Alps.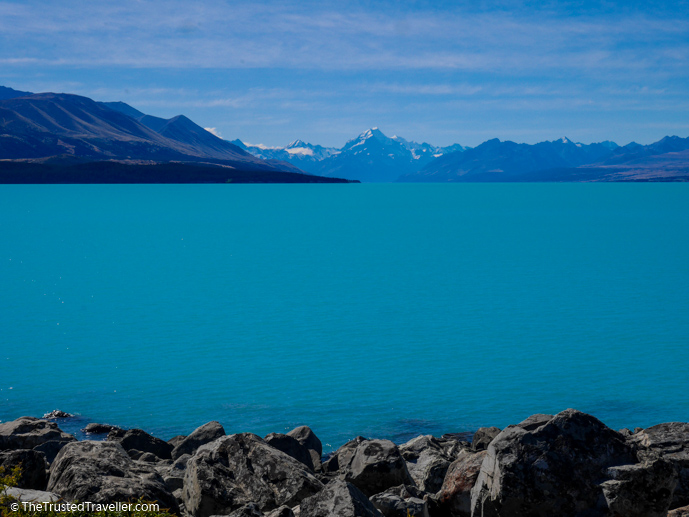 What to See & Do in Lake Tekapo/Mt Cook
Lake Tekapo – One of New Zealand's most photographed lakes because of its powdery blue colour on a blue sky day and of the perfectly positioned Church of the Good Shepherd that lies on the southern edge of the lake. This tiny church features an altar window that frames stunning views of the lake and mountains.
Lake Pukaki – Probably one of the most underrated of all the lakes on New Zealand's South Island. As you drive over the rise on the road from Lake Tekapo, Lake Pukaki appears out of nowhere and stuns drivers to instantly slow. We found the colour of Lake Pukaki to be more amazing than Lake Tekapo but it's not just the colour that makes this lake so impressive, at the far north of the lake is New Zealand's tallest mountain, Mt Cook, in all its glory.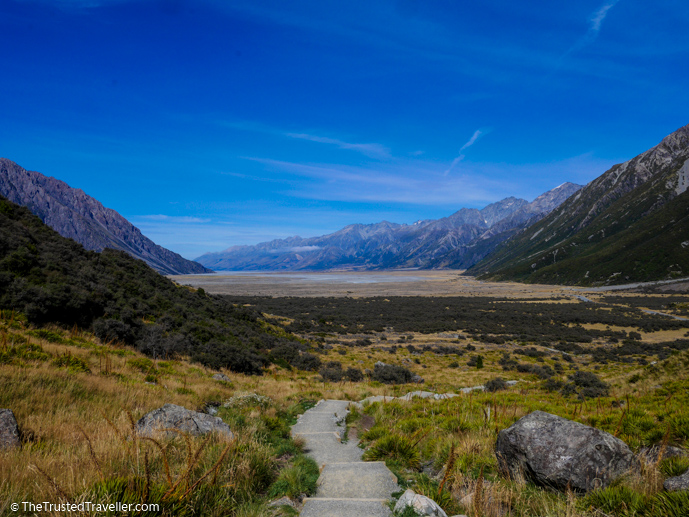 Aoraki Mt Cook Village – The drive out to see New Zealand's highest peak is quite possibly one of the best experiences to be had in New Zealand. It offers uninterrupted views of Mt Cook as it winds along Lake Pukaki. The village itself is home to walks (more on them below) and The Sir Edmund Hillary Alpine Centre which offers a series of 2D, 3D and a Digital Dome Planetarium shows.
Walks – There are dozens of walks you can do in the region like the four-hour Hooker Track which crosses three swing bridges, offers great views from the Alpine memorial and ends at the glacier lake with amazing views of Aoraki Mt Cook, the Hooker Glacier and the Southern Alps. Or why not summit Mt John for spectacular 360 degree views of the region.
View the Night Sky – The Mackenzie Basin is one of the darkest places on earth, giving it the status of being a Dark Sky Reserve. This means that there is very little light pollution which allows for some incredible star-gazing. If you move away from the towns in the region on a clear night you will see more stars than you could ever imaged. But for real star gazers, you'll want to head up to the Mt John Observatory in Tekapo to make the most of it.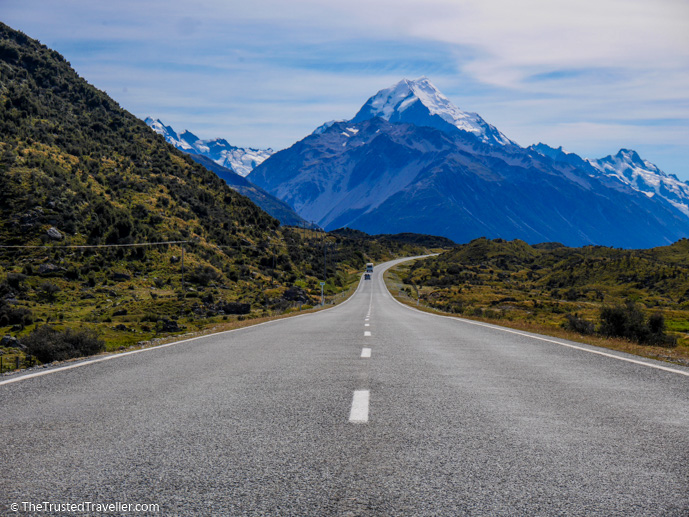 Where to Stay in Lake Tekapo/Mt Cook
Here are three accommodation options to suit all budgets that we recommend you check out. All are centrally located, highly rated and come with excellent facilities.
Budget
Lake Tekapo Motels & Holiday Lodge
Accommodation options include studios, apartments and bungalows. All studios and apartments offer a TV and an outdoor seating area. Bed linen is provided. Some accommodation offers a private bathroom. Lakefront location! Book Now
Mid Range
Three Rivers Lodge
Guest rooms offer comfortable beds and private bathrooms. Rooms are modern with heated floors and satellite TVs. Floor-to-ceiling windows offer views of the lake and surrounding mountains. Located in the centre of town. Book Now
Luxury
Lake Tekapo Lodge
Boasting stunning mountain and lake views, the lodge offers free Wi-Fi, heated guest rooms with a flat-screen TV and en suite bathrooms. The guest lounge features fireplace, library and tea/coffee-making facilities. Guests have free use of mountain bikes to explore the area. Book Now
---
Read More: Things to Do in New Zealand's Mackenzie Basin
Be Inspired: 10 Most Stunning Lakes on New Zealand's South Island
---
Day 4 to 5 – Fiordland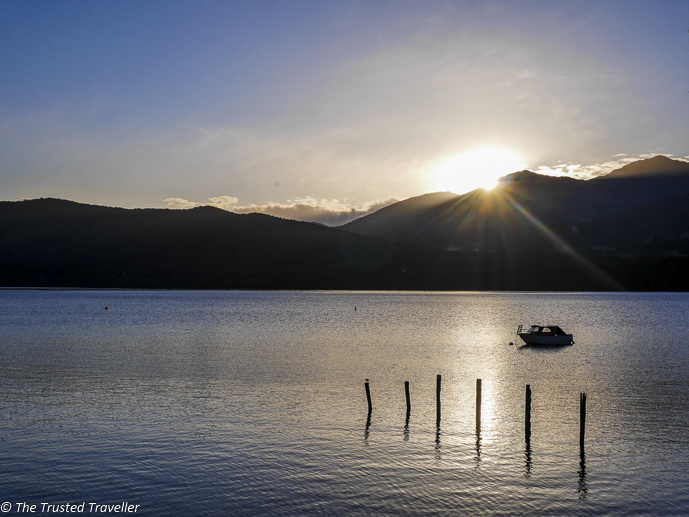 Drive Time: 5 hours from Tekapo to Te Anau
Make and early start for the spectacular Fiordland region on day 4. There's lots of stunning scenery along the way so allow plenty of time for photo stops. Spend the rest of the day in Te Anau. On day 5 we recommend day tripping or taking a tour to incredible Milford Sound.
Fiordland is one of the worlds greatest wilderness regions with stunning natural features that show the earth's evolutionary history. Te Anau, on the edge of the region is a great base for exploring the most accessible of the fjords, Milford Sound.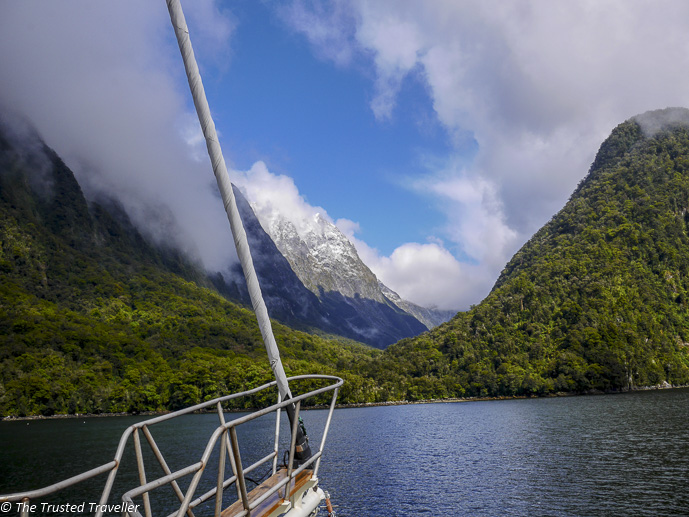 What to See & Do in Fiordland
Milford Sound – The two-hour journey from Te Anau to Milford Sound itself is worth the effort but the cruise is out of this world incredible. It takes you past and up close to towering peaks, plummeting waterfalls and interesting wildlife. To get there you can self drive but to really enjoy the experience, we recommend a small group guided tour like this.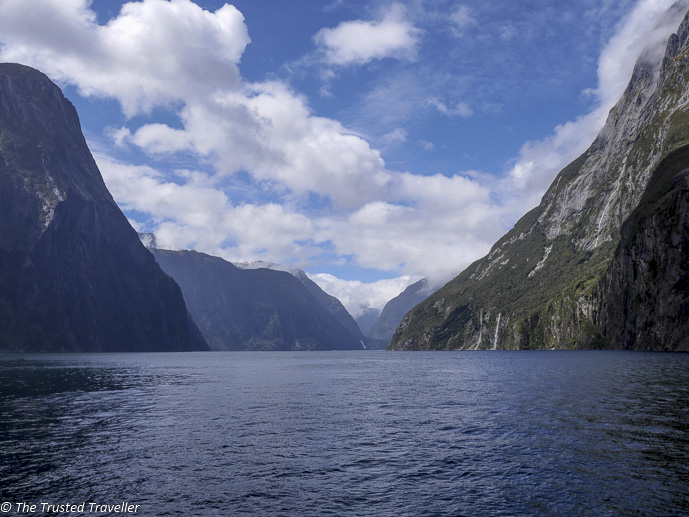 Te Anau Glow Worm Caves – On the western shore of Lake Te Anau you'll find a cave system home to millions of glowing worms. You can tour the cave with a guide from Te Anau which includes a cruise on the lake to get to the remote location. Inside the cave are gushing water flows and the opportunity to spend a few minutes in total darkness with this unusual creatures.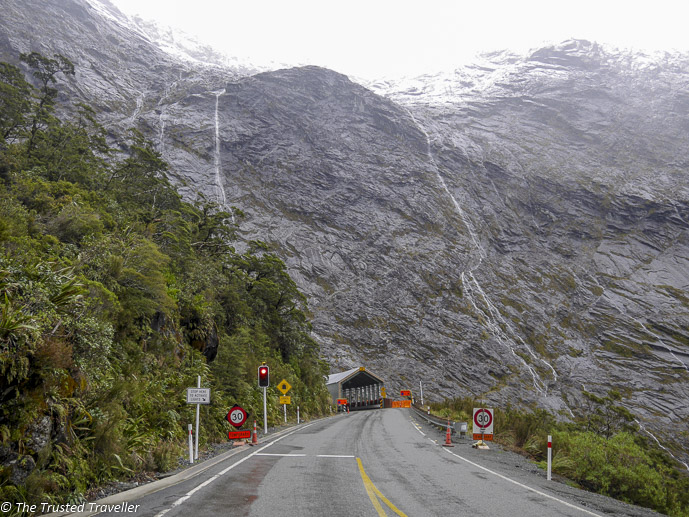 Where to Stay in Fiordland
Here are three accommodation options to suit all budgets that we recommend you check out. All are centrally located, highly rated and come with excellent facilities.
Budget
Te Anau Top 10 Holiday Park 
Located next to Lake Te Anau, facilities int he part include a hot tub and BBQ facilities. Accommodation options include chalets, studios and self-contained apartments. All offer a refrigerator, tea/coffee-making facilities and TV. Some feature a fully equipped kitchen. Book Now
Mid Range
Bella Vista Motel Te Anau
Motel rooms featuring heating, electric blankets, free WiFi internet and satellite TV. Guests have access to a barbecue area and laundry facilities. Some rooms also feature a spa bath in the bathroom. Located just minutes' walk from the lake. Book Now
Luxury
Fiordland Lodge
This luxurious lodge overlooks Lake Te Anau and the surrounding mountains. It offers a restaurant, free Wi-Fi and free parking. The comfortable rooms come with private balconies and luxurious bathrooms. Selected rooms come with spa bathtubs. The high ceilings and large fireplace in the hotel's lounge provides a warm and cozy environment for guests to relax. Book Now
---
Read More: Backpacking New Zealand on a Budget
Be Inspired: Our Journey to Milford Sound – In Photos
---
Day 6 to 7 – Queenstown
Drive Time: 2 hours from Te Anau to Queenstown
Make an early start to give yourself plenty of time to start exploring Queenstown. On day 7 you'll find lots too keep you busy in and around this big resort town.
A mecca for those who love being outdoors and those who love adrenaline pumping activities, Queenstown is the countries biggest resort town with something fun going on all year round. It's also set in a pretty stunning location on Lake Wakatipu, flanked  by The Remarkables, one of the country's most spectacular mountain ranges.
What to See & Do in Queenstown
Adrenalin Pumping Action – As the adventure capital of the world Queenstown is home to dozens of heart pumping activities that will satisfy your inner adrenaline junkie. Try your hand at everything from bungy jumping, the canyon swing, jet boating, white water rafting, canyoning, paragliding, or sky diving.
Drive to Glenorchy – Any dedicated LOTR fan will have heard of Glenorchy as one of the main filming locations for the movie. But even if you're not a die-hard you can still enjoy this drive, said to be one of the most scenic in all of New Zealand. It takes about 40 minutes and follows Lake Wakatipu, twisting and turning around the lakes edge.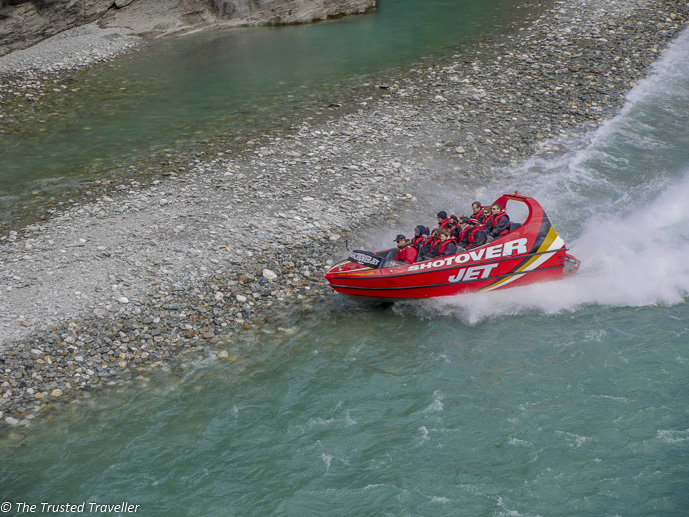 Visit Arrowtown – Just a short 25 minute drive from Queenstown is gorgeous little Arrowtown. This historic gold mining town has over 60 historic buildings still standing, some of which can be seen on a walk down the charming main street which is now lined with cafes and local artisan stores. Venture away from the main street towards the river to see the Historic Chinese Settlement, which was where the Chinese settled during the 1860's gold rush.
Central Otago Wine Tasting – Unless you've decided to add extra time in Queenstown, a day trip to actually visit the wineries of the region may not be possible. But don't worry, you can taste many of the regions best wines, right in the heart of Queenstown at The Winery. Grab a tasting card and a glass to help yourself to a taste of red, white, sparkling and spirits from Central Otago and beyond.
Skyline Gondola – For the best views from above in Queenstown take a ride on the Skyline Gondola. The gondola glides up Bob's Peak offering stunning views of the town, the Remarkables mountains and Lake Wakatipu.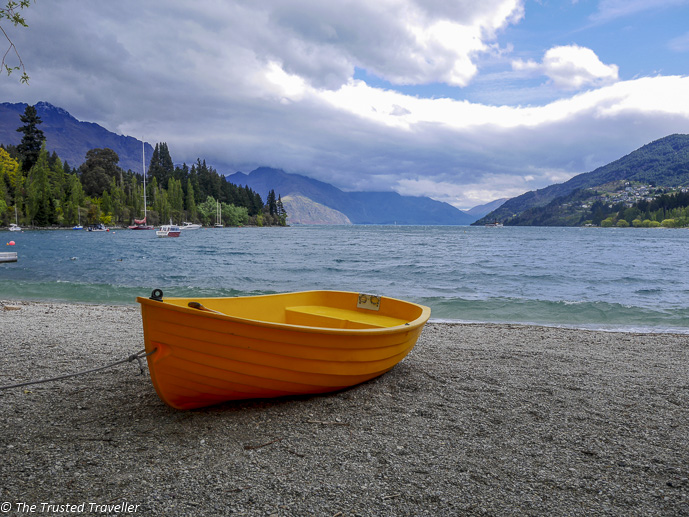 Where to Stay in Queenstown
Here are three accommodation options to suit all budgets that we recommend you check out. All are centrally located, highly rated and come with excellent facilities.
Budget
Absoloot Value Accommodation
Located on the lakefront in the centre of Queenstown, Absoloot offers private rooms and dormitories, all with private bathrooms. Guests enjoy free unlimited Wi-Fi as well as access to a communal kitchen and laundry facilities. Book Now
Mid Range
Turner Heights Townhouses
Located just a  two-minute walk from the heart of Queenstown, these apartments include free Wi-FI, satellite TV and cooking facilities. Most apartments offer stunning views of the lake and mountains; others have a courtyard and private spa pool. Book Now
Luxury
Sofitel Queenstown Hotel & Spa
Located in the heart of Queenstown, the Sofitel Queenstown offers luxurious room featuring marble bathrooms with French amenities, a double spa bath and a separate rain shower. The rooms boast Sofitel's "MyBed", under-floor heating, an espresso machine, LCD TV and DVD player. Book Now
---
Read More: Things to Do in Queenstown
Be Inspired: Queenstown Photo Gallery
---
Day 8 – Wanaka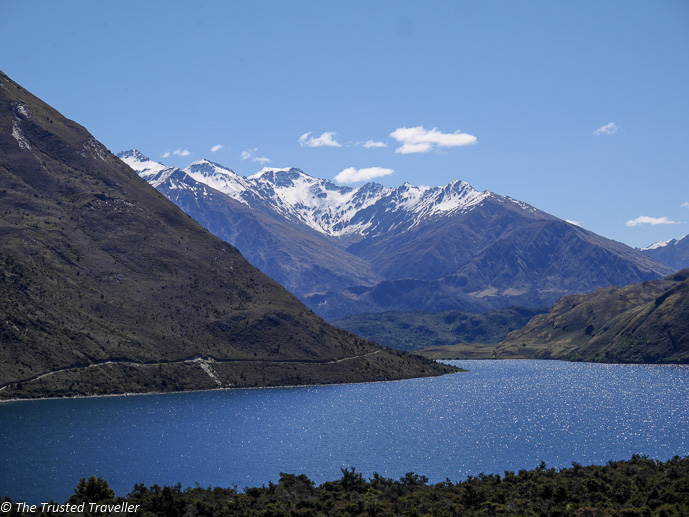 Drive Time: Just over one hour from Queenstown to Wanaka.
It's only a short drive to Wanaka form Queenstown but we still recommend making an early start so you can make the most of your day exploring Wanaka.
One of the most beautiful towns and lakes in New Zealand, Wanaka and it's lake of the same name, is a year round outdoors destination. In the warmer months enjoy some of the country's best walks and during the winter, ski at some of the Southern Alps best resorts.
What to See & Do in Wanaka
Mt Aspiring National Park – Enjoy a range of walks to suit all fitness levels from two hours to two weeks. One of the most popular is the Rob Roy Glacier Track, a spectacular 3-4 hour, 10 km walk that takes in alpine scenery, snow fields, glaciers, sheer rock cliffs and waterfalls.
Explore the Lake – There are a few different ways you can enjoy Lake Wanaka either on land or on the water. From the town there's a walk/bike track that leads in both directions around to certain points of the lake. Or if you prefer to see it on the water, you can hire a kayak, take a guided boat tour or speed through it on a jet boat.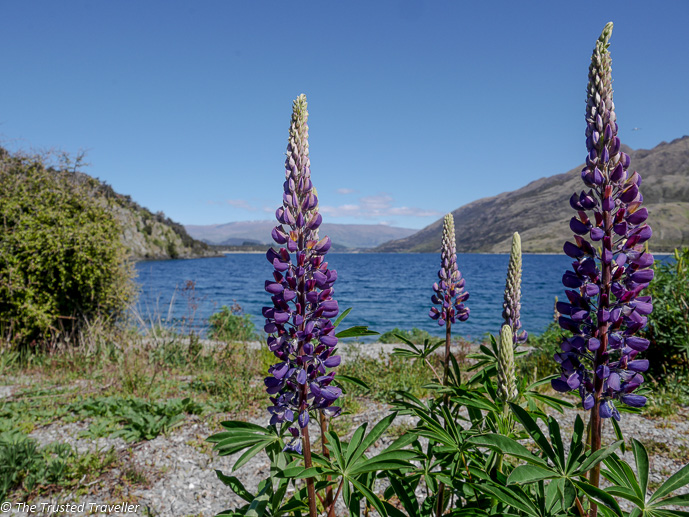 Roy's Peak – For the best view from above of Wanaka, a hike up Roy's Peak is a must. It is a 5-6 hour return 16 km walk that takes you to the 1,578 m peak on a steep but relatively easy climb.
Fun in the Snow – During the cooler months you'll find two of New Zealand's finest ski fields within easy reach of Wanaka. Treble Cone and Cardrona Alpine Resort are just 20 minutes drive away, and offer ski and snowboarding facilities to all skill levels.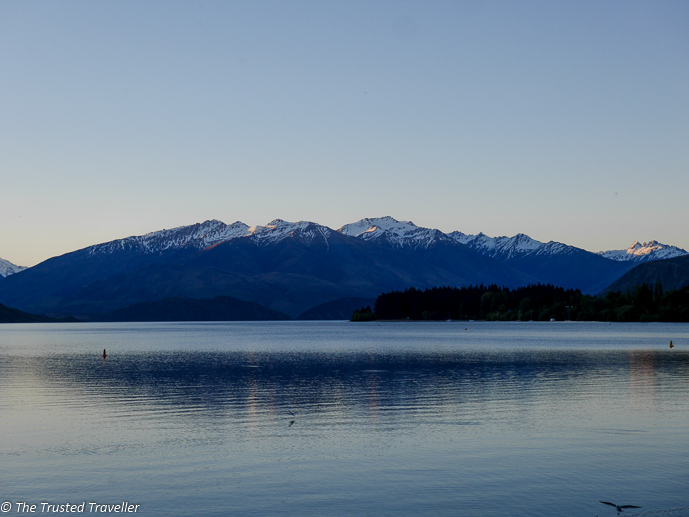 Where to Stay in Wanaka
Here are three accommodation options to suit all budgets that we recommend you check out. All are centrally located, highly rated and come with excellent facilities.
Budget
YHA Wanaka
This hostel features an open-plan lounge/dining area with log fire and views of Southern Alps and Lake Wanaka. Guests can choose to stay in lively dormitory rooms or in the comfort of their own private rooms. The private rooms feature en suite bathrooms. It's just a three-minute walk to the lake. Book Now
Mid Range
The Moorings Hotel & Apartments
Lakeside accommodation with views of the mountains just minutes' walk to the town centre. All rooms feature under-floor-heating, satellite TV, en suite bathroom, a lounge area and cooking facilities including a stove, a microwave and a fridge. There are barbecue facilities and a ski equipment room on site. Book Now
Luxury
Wanaka Springs Lodge
Just five minutes' walk from the town centre. Guests enjoy free WiFi and free on-site parking. Facilities include a spa pool, a guest lounge and a large patio deck overlooking the mountains. Handmade wooden furniture and rich colourful decor make all accommodation a special place. Guests enjoy views of the mountains, lake or gardens from each room. Book Now
---
Read More: The Spectacular Drive from Franz Josef to Queenstown
Be Inspired: 26 Photos That Prove Wanaka is Amazing
---
Day 9 to 10 – Franz Josef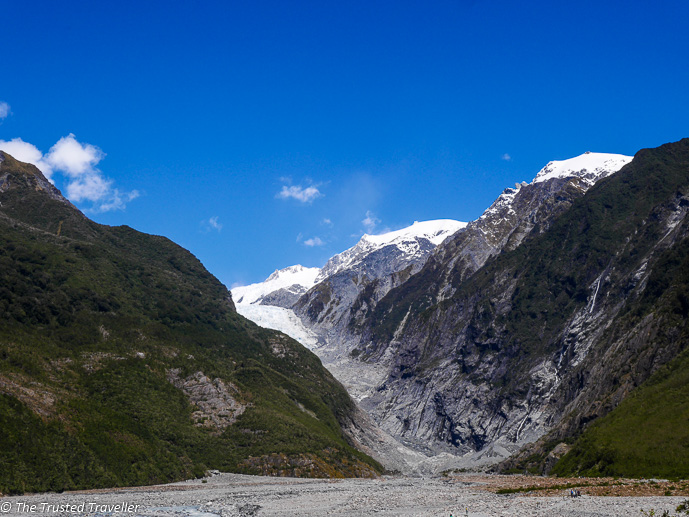 Drive Time: 3.5 hours from Wanaka to Franz Josef
The drive from Wanaka to Franz Josef is one of the South Island's best so give yourself plenty of time to make stops at waterfalls, lookouts and the amazing Blue Pools. On day 10 you'll have plenty of time to explore a lot of Glacier Country's highlights.
Don't miss out on visiting the glaciers of Glacier Country before they disappears! You see, the glaciers are melting at an increasingly fast rate so they won't be around forever. Basing yourself in thriving little resort town of Franz Josef gives you easy access to everything the region has to offer.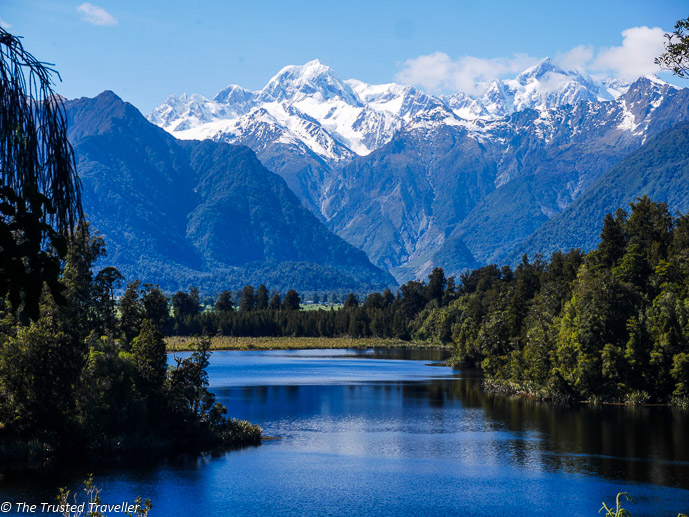 What to See & Do in Franz Josef
Explore the Glaciers – There are two ancient glaciers available in the region for visitors to explore, Franz Josef Glacier and Fox Glacier. Anyone can take a flat, easy walk to get close to each of them in just over an hour. Or for something a bit more adventurous, why not climb aboard a helicopter to soar above them and even land and walk on them.
Lake Matheson – This picture perfect lake offers views of Mt Cook and on a clear, calm day, the perfect reflection of it too. The walk around the lake takes about one and half hours with lots of places to stop and taking in the view along the way.
Glacier Hot Pools – After a day hiking on glaciers you'll need a place to go and help your muscles to relax. The Glacier Hot Pools is just the place! Surrounded by rainforest, the pools are fed by the waters of Franz Josef Glacier, or Ka Roimata o Hinehukatere in Māori. The legend of Hgai Tahu (a local Māori tribe) says that these waters are the tears of aroha, meaning love, which were frozen by the gods creating the Franz Josef Glacier.
Where to Stay in Franz Josef
Here are three accommodation options to suit all budgets that we recommend you check out. All are centrally located, highly rated and come with excellent facilities.
Budget
YHA Franz Josef
Hostel featuring a range of rooms from private rooms with private bathroom to dorms with shared bathrooms. Facilities include a fully equipped shared kitchen, a guest lounge with satellite TV, a pool table, BBQ area and a sauna. Seconds walk to the main street of town. Book Now
Mid Range
The Terrace
4-star accommodation with an on-site restaurant in the centre of Franz Josef. The Terrace offers free unlimited WiFi and views of snow-capped mountains from the grounds, and from some rooms. Accommodation options include studio rooms and self-contained apartments. Book Now
Luxury
Te Waonui Forest Retreat
Surrounded by natural rainforest, this retreat is a short drive from Franz Josef Glacier and minutes' walk to the main street of town. Guests enjoy free WiFi and five-star retreat luxuriously appointed rooms which include organic cotton bed sheets, pillow menu and large private bathrooms. Book Now
---
Read More: Things to Do in New Zealand's Glacier Country
Be Inspired: A Walk Around Lake Matheson – In Photos
---
Day 11 to 12 – Nelson/Abel Tasman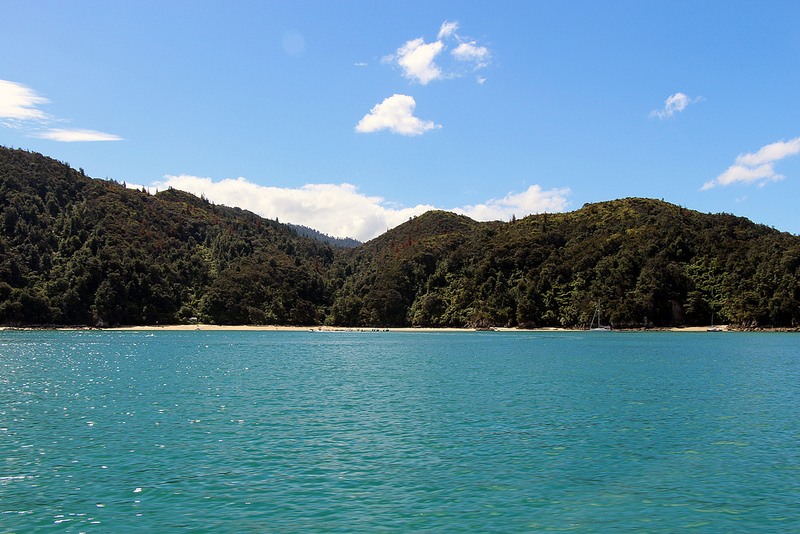 Source
Drive Time: 6 hours from Franz Josef to Nelson along the West Coast
Day 11 is the longest drive day of the trip but a don't worry, it's another spectacular one. Make sure you follow the wild west coast all the way up to Punakaiki for the best views. On day 12 head out to Abel Tasman National Park for a day of adventure.
Nelson is the perfect place to base yourself for exploring one of the South Island's best kept secrets, Abel Tasman National Park. Home to pristine golden sand beaches and excellent walks, this part of the country should be on everyone's to-see list.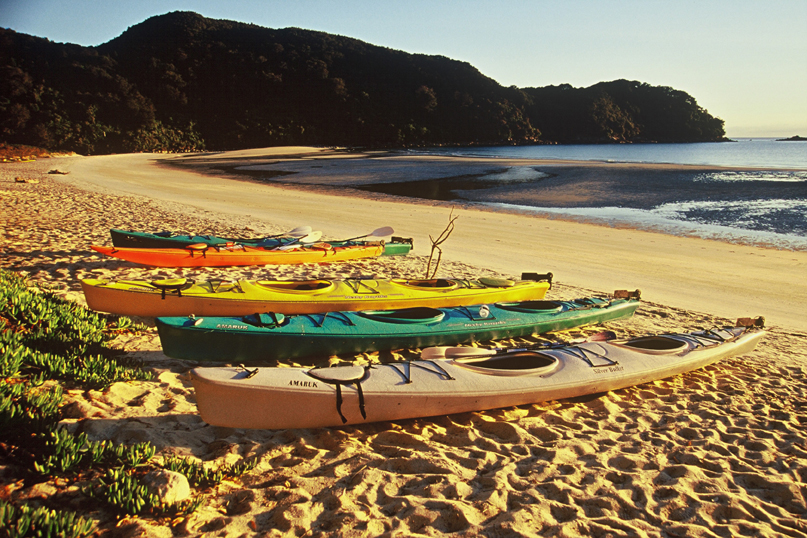 Source
What to See & Do 
Day Trip to Abel Tasman National Park – With no road access to the park, your only options for exploring Abel Tasman are on foot, cruise or kayak. There are a bunch of tours available that combine these things for a full day exploring this stunning national park.
Where to Stay in Nelson
Here are three accommodation options to suit all budgets that we recommend you check out. All are centrally located, highly rated and come with excellent facilities.
Budget
YHA Nelson by Accents
Guests can choose between private and dormitory rooms, with access to shared bathroom facilities. Secure lockers, luggage storage, free WiFi, shared kitchen facilities, spacious dining area and a sunny garden with a courtyard BBQ. Located in the centre of Nelson. Book Now
Mid Range
Harbourside Lodge
Located on the Port Nelson Marina, guests enjoy free WiFi and free parking. All motel style accommodation features a satellite TV, a toaster, tea and coffee-making facilities and a fridge. Some rooms feature a private balcony or ocean views. Book Now
Luxury
The Sails Nelson 
Luxurious 5-star accommodation with free Wi-Fi, floor-to-ceiling windows and a private balcony or patio. Modern accommodation offers a lounge area with a flat-screen TV, a Blu-ray player and an iPod docking station. Each room includes a fully equipped kitchen. Located just 450 m from shops and restaurants. Book Now
---
Day 13 to 14 – Kaikoura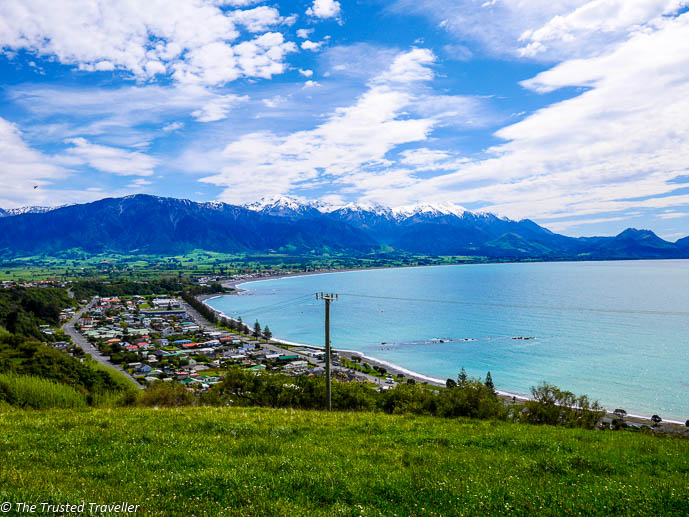 Drive Time: 3 hours from Nelson to Kaikoura
Day 13 is another easy drive day with lots to see and experience along the way. Stop by the Marlborough Wine region for sip and enjoy the spectacular drive south along the Kaikoura coast.
The seaside town of Kaikoura sits on a big wide open bay that is home to countless species of marine life and flanked with towering snow-capped mountains and rolling green hills. Sounds like paradise to me!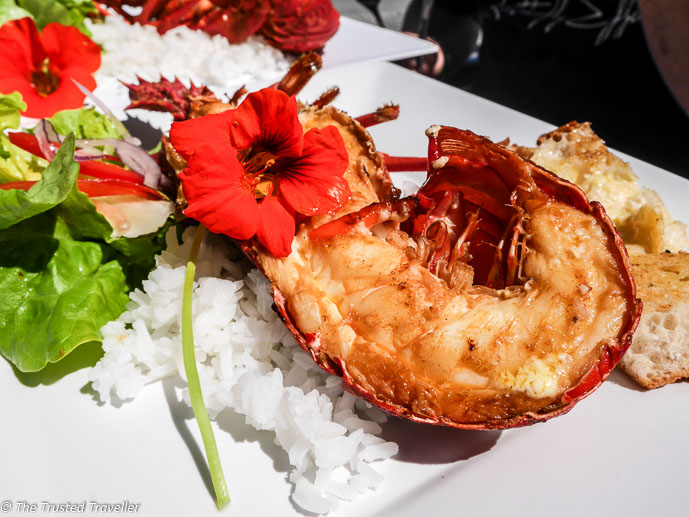 What to See & Do in Kaikoura
Peninsula Lookout – The first place you should head when arriving in town, this lookout provides the best views of the bay and mountains. I guarantee the view will take your breath away.
Point Kean Seal Colony – At Point Kean, just a few minutes drive from town, you'll find a colony of seals that you can get up close (but not too close!) to in their natural environment. As soon as you step out of the car you'll see the seals lazing on the rocks, soaking up the sun. On our visit we saw a few dozen including some young ones playing in a natural rock pool.
Ohau Stream – From May until October, head just 15 minutes north of Kaikoura to visit the Ohau Stream to see seal pups playing in the stream and under the waterfall. These playful and shy little creatures are left here by their mothers for a few months to play with the other pups while they grow.
Whale & Dolphin Cruises – The bay is home to an array of marine life all year round. Your best chance at seeing them up close is on a cruise and there are cruises that run daily all year round. Sperm Whales live in the bay year round and Kaikoura is one of only three places in the world where you can see them up close. A tour will also give you the chance to swim with the resident Dusky Dolphins.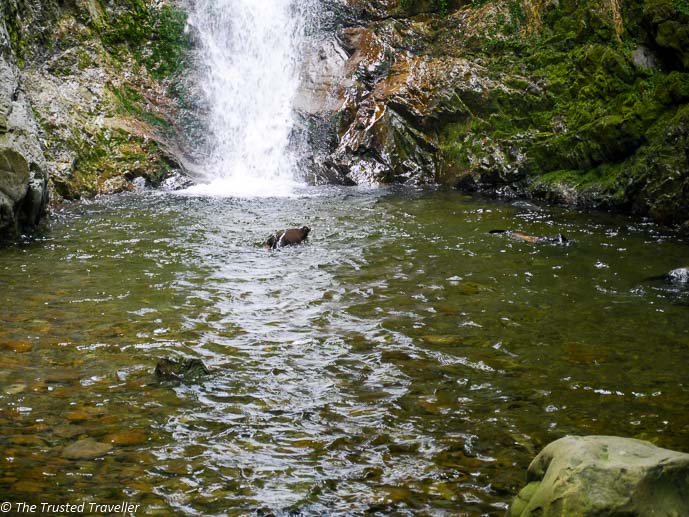 Where to Stay in Kaikoura
Here are three accommodation options to suit all budgets that we recommend you check out. All are centrally located, highly rated and come with excellent facilities.
Budget
Kaikoura Top 10 Holiday Park
This park features a heated swimming pool, spa and BBQ area. Accommodation includes cabins and self-contained units, most with air conditioning, satellite TV and a DVD player. Some offer a fully equipped kitchen. The parks just a seven minute walk from Kaikoura town centre. Book Now
Mid Range
Quality Suites Kaikoura
Just three minutes' drive from the centre of Kaikoura, Quality Suites offers views of the Kaikoura Ranges from each room. Rooms features modern bathrooms with under-floor heating, free WiFi, satellite TV and some rooms include a large living area and kitchenette. Book Now
Luxury
The Hamptons
Just one minute walk from the beach, The Hamptons offers free WiFi and free breakfast in a quiet, seaside location. Luxurious rooms feature a patio, a flat-screen smart TV, air-conditioning, sea views, a sofa, a refrigerator and tea/coffee-making facilities. Book Now
---
End your trip back in Christchurch where you'll find the biggest range of International flight departures on the South Island.
---
Car Hire
If you follow this trip to a tee you'll be driving over 2,000 km, so you'll want a vehicle that is comfortable for all, driver and passengers, plus one that has plenty of space for your luggage.
New Zealand's terrain is very mountainous so hiring a vehicle with a bit of power will make the driving experience easier too.
For all our car hire bookings we use and recommend Expedia. We've found they offer the most comparable prices, let you search and compare multiple car hire companies and they have a great customer service team who can help if you come into any unexpected troubles.
---
Got More Than Two Weeks?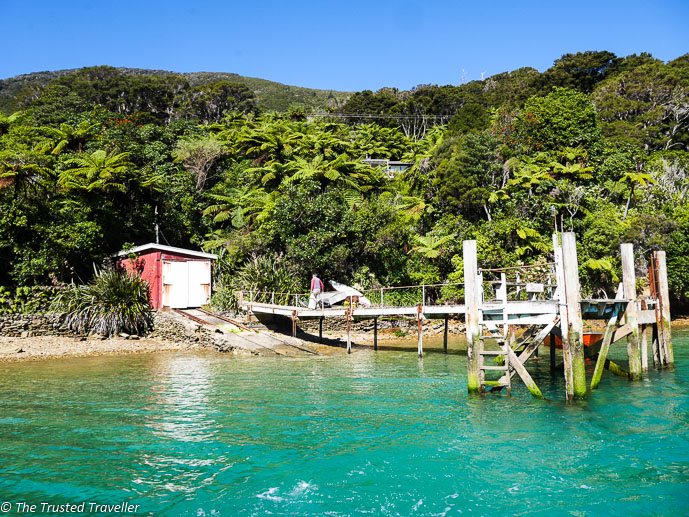 There is so much more to New Zealand's South Island than the places mentioned in the above itinerary. If you have more than two weeks to explore this incredible part of the world, here are a few extra stops we think you should consider:
Dunedin – Home to some of New Zealand's best architecture and a great place to base yourself for exploring the stunning coast just north of the city.
The Catlins – Love the outdoors? Then you'll love The Catlins! The region offers walks for all abilities, stunning coastal and rural scenery and quaint little villages.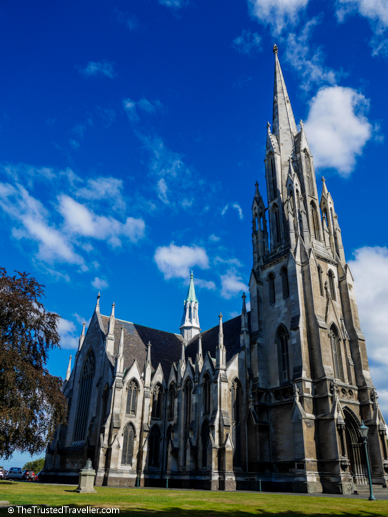 Stewart Island – Stunning seascapes, lots of wildlife and a slower pace of life are just a few of the draw cards for visiting this island located off the south coast of the South Island.
Marlborough – From cruising the untouched sound to sipping some of the world's best wine, Marlborough isn't just another pretty place to pass through, it's worth some time if you can afford it.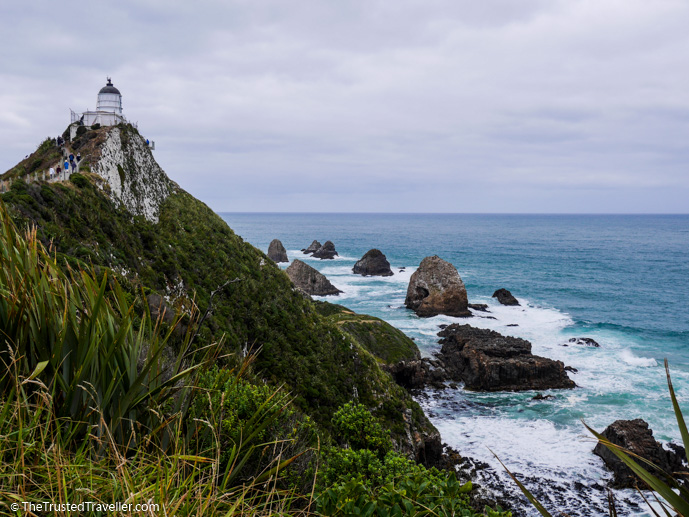 Punakaiki – This itinerary actually takes you through Punakaiki but we think that if you have time, it is a place well worth some extra time. It is home to some of the best coastal walks and natural features you'll find in New Zealand.
And don't forget that you can also spend extra time in any of the places mentioned in this itinerary. All of them have lots to offer.
---
Read More: Three Week New Zealand South Island Itinerary on Backstreet Nomad
---
Disclaimer: There are affiliate links throughout this post. When you click on them, and make a purchase, you are supporting us and The Trusted Traveller at no extra cost to you.
---
PIN THIS FOR LATER!
---
Over to you!
Which part of New Zealand's South Island are you most excited to visit?
Let us know using the comments section below or join us on social media to start a conversation.
Thanks for reading and we hope you enjoyed this post.