This Italy Travel Guide aims to provide you with simple and stress-free travel planning information and inspiration for planning a trip to Italy.
On this regularly updated page you will find links to useful posts on The Trusted Traveller, budget information, details on types of accommodation available, information on getting around the country and more useful links to resources around the web.
---
Quick Facts
Capital: Rome
Language: Italian
Currency: € Euro which is made up of 100 cents. Coins come in 1c, 2c, 5c, 10c, 20c, 50c, €1 and €2 denominations and notes in €5, €10, €20, €50, €100, €200 and €500 denominations.
Electricity: 230 volts AC, 50Hz. Plugs with two round pins are standard. Outlets for 110 volts for small appliances can be found in most hotels.
---
Travel Tips
Geography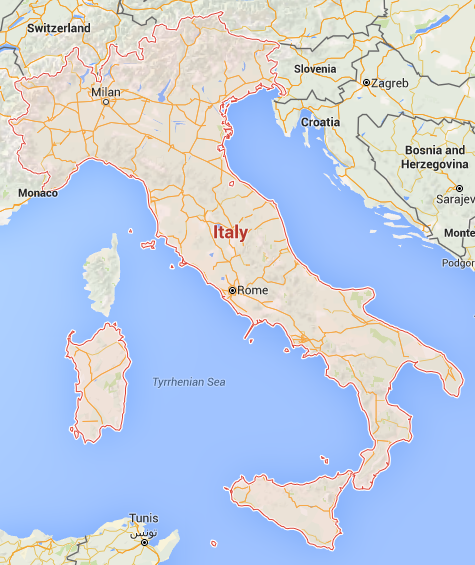 Shaped like a boot, Italy is located in the south of Europe along the Mediterranean Coast sharing a boarder with France to the east, Switzerland and Austria to the north and Slovenia to the west.
Italy's landscape is incredibly diverse. In the north you will find some of Europe's highest alpine mountain peaks. The area around Tuscany is fertile rolling hills and lush valleys, contrasting to the Umbrian countryside of broad fertile plains. Further south around the capital Rome, the landscape turns rocky with mountain ranges and volcanic outcrops. And then once you get down into the country's 'boot' the landscape once again turns to fertile plains.
Weather
Just like it's landscape, Italy has a diverse climate to match. Being on the Mediterranean, summers are general hot and dry all over the country with some days reaching over 40ºc. Summer in the mountainous north is fresh and comfortable.
In winter the northern alpine region can get very cold with temperatures below freezing and heavy snow falls common. The middle of the country will be cooler over winter with the area receiving the most rainfall of the country. And further south, winters are milder, similar to that of the northern African countries just across the Mediterranean.
Best Time to Visit
Italy is a year round destination. For the warmest and most reliable weather April to June is the ost popular time to visit. Italians like to take their holiday in July and August so prices, and crowds, can skyrocket during this time. July and August also bring the hottest of temperatures so beach lovers will want to head to the country's Mediterranean coast.
September to October is a good choice for less crowds and mild temps. Winter sport fanatics will want to head to the northern alpine region from December to March for plenty of fresh powder and to enjoy the apres-ski lifestyle.
Money
It is always recommend to have a mixture of cash and bank/credit card with you when you travel anywhere in the world and this is no exception in Italy.
In Italy ATM's are called Bancomats and are found in all major towns and cities across the country. As well, credit cards are widely accepted, although some establishments such as small hotels and shops may only accept cash.
| | | |
| --- | --- | --- |
| Accommodation | Food | Transport |
| Dorm bed in a hostel - €25 | Simple fast food or takeaway meal - €10 | Single bus/train/tram ticket - €3 |
| Double room in a budget motel - €70 | Cafe/pub style meal with one drink - €25 | Short taxi ride - €20 |
| Double room in a 4 or 5 star hotel - €180 + | Three courses in top class restaurant - €80+ | Domestic 2nd class train fare - €50+ |
To work out these costs in your own currency, I recommend XE.com.
Getting There
Getting to Italy from surrounding European countries is simple, quick and cheap by bus or train. You can find out more about rail travel in Europe, including purchasing tickets, on the Rail Europe website; and about bus travel on the Eurolines website.
Italy is also well-connected by air with flights arriving in Rome, Florence, Venice, Milan and Naples from all across Europe and the UK and parts of the US, Middle East and Asia.  A flight from London will take just under three hours and a flight from New York about ten hours.
---
Useful Italy Posts
The Best of Italy By Train: A Two Week Itinerary
Day Trippin' Italy: 6 Simple Day's Out
Driving Leonardo's Backyard: 5 Well/Less Well-Known Destinations
First Timers One Month Europe Itinerary
---
Other Italy Travel Planning Resources
Here is a constantly growing collection of resources from around the web to help you plan you dream trip to Italy.