When we made the decision to take a road trip around New Zealand's South Island, top of my list of things to do was to take a tour of the Marlborough Wine Region. You see, I'm a big Sauvignon Blanc drinker, so with Marlborough being one of the best places in the world to grow the sauvignon grape variety, I just couldn't miss the chance to try a sip or two from the source.
On our drive from Christchurch to Marlborough we'd driven through the wine region to get to our accommodation in Picton. The flat plains where most of the wineries are located kind of come out of nowhere. One minute you winding through hills and farmland with the odd vineyard on a hillside, the next it is vines as far as the eye can see, completely surrounded by towering mountain ranges.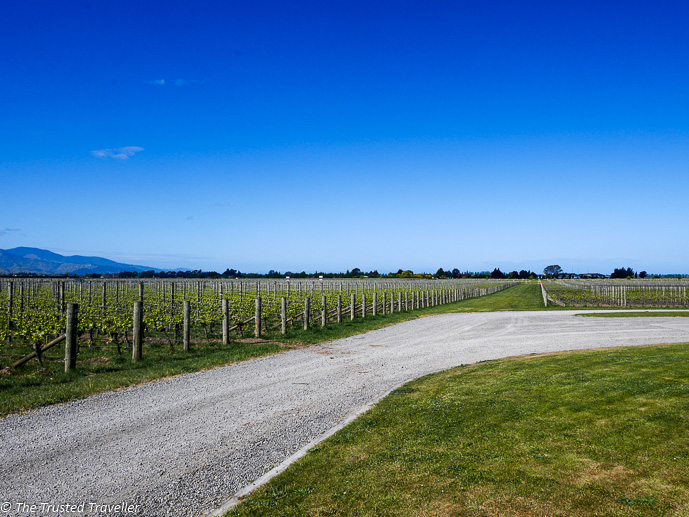 Because we had our own car we could have taken ourselves from vineyard to vineyard but that would have spoilt some of the fun for Mick, the designated driver. Instead we decided to book a tour.
Picking a Tour
I did a lot of research before our trip on the type of tour I wanted to do.  It had to be a small group (max. 10-12 people), full day including a gourmet lunch at one of the vineyards and visits to off the beaten path vineyards, you know, the type that are harder to find in the bottle shops back home.
One tour company, Bubbly Grape Wine Tours, stood out above the rest for us and the reviews on Trip Advisor and their website showed that they met all of our criteria. Plus they are competitively priced.
The Tour Begins
The tour began with a pick up from our accommodation in Picton around 9am by the lovely Karen in a mini-van. There were just four of us on the morning portion of the tour with three more to join us after lunch. Our companions were a couple around our age travelling from the UK. We enjoyed chatting to them throughout the tour and discovered we had a lot in common so it made for a very pleasant trip.
On the 20-30 minute drive from Picton to Blenheim Karen asked us what our taste preferences were and if we had any vineyards in mind to visit. All four of us agreed we wanted to visit off the beaten path vineyards with both the men on the tour favouring the reds and us girls favouring whites. Taking all of this into consideration, Karen set the course for the day.
The plan was to visit 5 wineries in total with two in the morning, one for lunch and another two after lunch. While the four of us were at lunch, Karen would be picking up the other three people joining the tour for the afternoon. Sounded perfect to us!
---
Read More: Two Week New Zealand South Island Road Trip Itinerary
Be Inspired: 43 Photos to Convince You to Visit New Zealand's South Island
---
Wine Tasting the Day Away
By 10am we tasted our first of many wines for the day with a lesson in wine tasting from the friendly cellar door attendant in Drylands Estate. We chatted and asked questions about the wine making process and walked out feeling more prepared for the rest of the day.
Onto winery number two, Nautilus Estate, set just off of the road in a lovely cottage surrounded by relaxed hedges and tall billowy trees. They were expecting us with a table set in the tasting area for our little group to try their selection.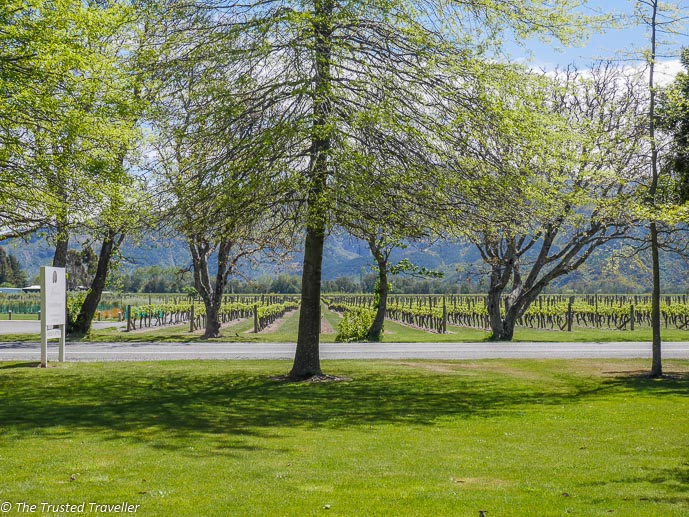 Nautilus is a family run business with multiple vineyards in the area. They specialise in wines that are paired well with food and have complexity of fruity flavours. We tried around a half a dozen of their wines and loved their Pinot Noir so much we grabbed a bottle to go.
A Scrumptious Lunch
Lunch was booked in at Allan Scott Family Winemakers. The cellar door and restaurant are housed in a lovely country style house complete with lavender hedges lining the entry path. Before lunch we had a tasting at the cellar door, allowing us to choose which wine we wanted to accompany our meal.
We're told by the lady behind the counter that Allan Scott created the business and vineyard from the ground up and that he, his wife and children all have their own parts to play in the business.
As it was a beautiful day we were seated in the restaurant courtyard which is partially covered by flowering vines and dappled in sun. Our three course included lunch was pretty close to perfect with the food beautiful presented and tasting delicious, especially paired with the Allan Scott Sauvignon Blanc that I had chosen.
More Cellar Doors
Bursting at the seams, it was time to jump back in the van and meet our further three companions for the afternoon, three early twenties girls backpacking around New Zealand.
The girls had made a request to visit Cloudy Bay, one of the region's biggest wineries, so that's where we headed first. I've tried Cloudy Bay back home and unfortunately it gives me allergies. I'm not sure what it is but I thought that this was a good chance to ask them why.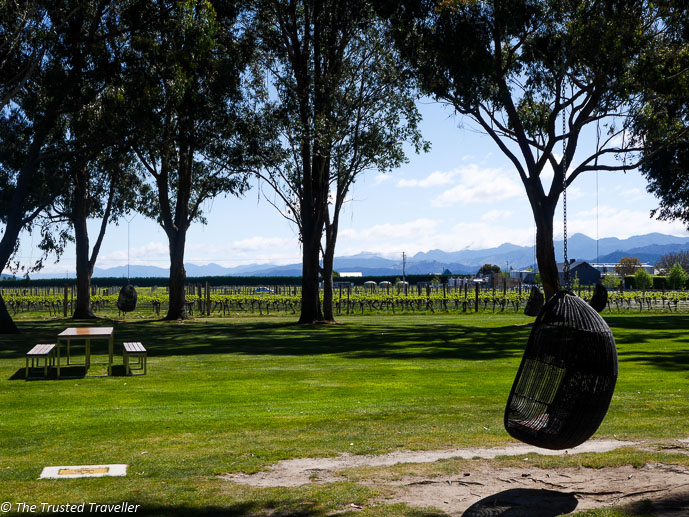 The lady at the cellar door was new and could only really tell me that they don't do anything different to other wineries I had tried and not gotten allegoric reactions from. Despite this I decided to take a chance and try a few of their wines (armed with my anti-histamine medication).
I have to say I was a little disappointed with both the wine and the service at Cloudy Bay and it cemented my original desire to try and visit only the smaller more boutique wineries. This was the one and only downside to the day and the tour for us.
Organic Wines
It was time for the final winery of the day and by this point I was starting to get a little tipsy. Karen was quite excited to be taking us to this final vineyard, Fromm, an organic winery that is known well by locals to have intense red varieties.
We had a blast in Fromm with the cellar door attendant keen to get us trying everything they had on offer. While I found the white varieties just ok, Mick still to this day is raving about their reds and has gone out on a limb stating that the Syrah variety they make is the best red he's ever tasted.
Sad that our tour was just about over, we boarded the van for the last time for the drive back to Picton and our accommodation. It was a quiet ride with most of us having a nap to sleep off the wine.
---
The Details
The Marlborough Wine Region is located in the north of the South Island of New Zealand. By car its a four hour drive from Christchurch. There are also trains and buses that can get you there from Christchurch and the Interislander Ferry from the North Island city of Wellington which docks in Picton. The main towns close by are Blenheim and Picton.
We choose to stay in the sleepy town of Picton as it allowed us to explore both the wine region and the Marlborough Sound with ease. Check out my Where to Stay page for my recommendation.
Bubbly Grape Wine Tours offer small group half and full day wine tours of the Marlborough Wine Region with pick-ups available from both the Blenheim and Picton accommodation. Prices start from just $NZ55.00 per person.
---
Over to You!
Have you been on a tour of the Marlborough wine region or any other wine region around the world? I'd love the hear about your experiences.
Let us know using the comments section below or join us on social media to start a conversation.
Thanks for reading and we hope you enjoyed this post.