No visit to Poland would be complete without visiting Krakow. This once capital city now cultural hub is bursting with a diverse range of history, art and food.
The city's historic centre was the first of its kind to be named a UNESCO World Heritage listed site in 1978 largely because it was lucky enough to come through WWII virtually untouched. This makes it the perfect place to find yourself surrounded by original Gothic and Renaissance architecture, some of the best in the world, as you wander out from the Main Market Square through the cobblestone streets of the Stare Miasto (Old Town).
There is an abundance of things to do in Krakow as well as some really interesting and thought provoking half day trips to places just outside of the city. And because it's not a big city, fitting in most of, or even all of it's key attractions can easily be achieved in just a few days.
---
Main Market Square
The Main Market Square or Rynek Glowny in Polish, is Europe's largest medieval square and is surrounded by mostly neoclassical buildings containing restaurants, bars and shops. Throughout the year the square is used for a number of public events and festivals and you will find it full of people all year round. The square is dominated by the The Cloth Hall in the centre and the brick St Mary's Basilica that towers over the square.
Address: Rynek Glowny, Krakow
Cost: Free
---
The Cloth Hall
The Cloth Hall in the centre of the the Main Market Square is one of the city's most recognisable buildings and one of the best examples of Renaissance architecture to be found in the city. The Hall was originally used as the centre of Krakow's medieval clothing trade but these days you will find an arcade with stalls selling locally made souvenirs and crafts on the ground floor and the Sukiennice Museum, a branch of the National Museum of Krakow, on the upper floor.
Address: Rynek Glowny, Krakow
Cost: Free for the main arcade
---
St Mary's Basilica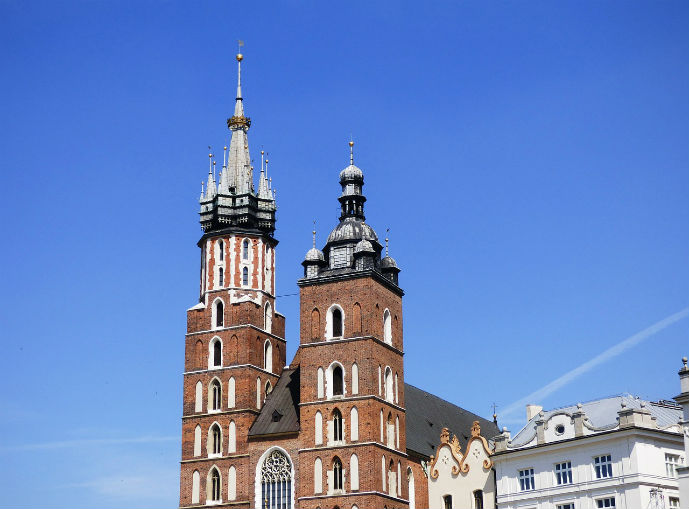 The brick St Mary's Basilica towers over the Main Market Square with its two towers of different heights. It was originally built in 1220 but later destroyed and re-built over time into its current form. Its interior is quite spectacular with lots of intricate detailing and well worth a look. During summer you can climb one of the towers for spectacular views across Krakow.
Address: Rynek Glowny, Krakow
Cost: Adults 10zł, Concession/Child 5zł
Hours: 11:30-18:00 Mon to Sat, 14:00-18:00 Sun
More Information: http://www.mariacki.com/
---
Kazimierz
The former Jewish district of Kazimierz is a great place to take in its picturesque streets and Renaissance buildings. During a walk around this area you will come across many churches, synagogues and museums. The deportation of Jewish people from this area by the Nazis during WWII saw the loss of the areas life and atmosphere. Luckily today, Kazimierz is thriving with life from the slow rejuvination that has been happening for many years. While you're in the area be sure to have a meal at one of the traditional Jewish restaurants. My recommendation is Polakowski. This tiny family run self service style restaurant, open since 1899, serves cheap and delicious meals typical of Poland. The locals love it which means it must be great!
Address: Kazimierz district is just south the Old Town. Polakowski – ul. Miodowa, Kazimierz, Krakow
Cost: Entrees from 4zł, Mains from 7zł
Hours: Breakfast, lunch and dinner
More Information: http://www.polakowski.com.pl/
---
Wawel Castle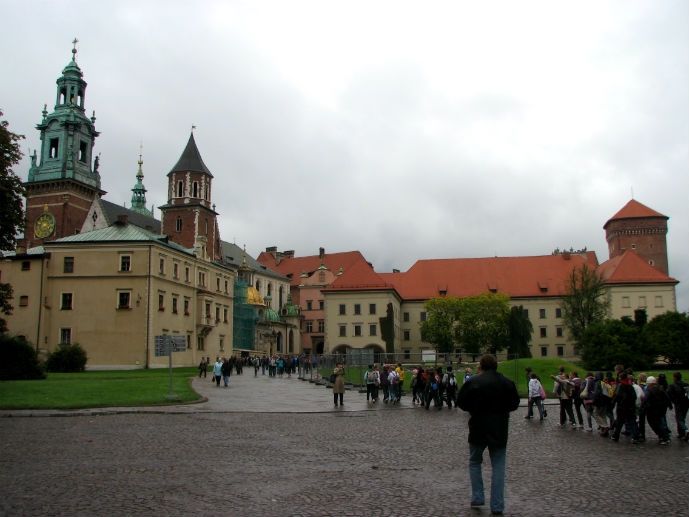 A short walk south from the Main Market Square is the area of Wawel and the Wawel Castle. The palace that you see today was re-built in the 16th century in the renaissance style and is surrounded by a beautiful arcaded courtyard. There are a number of attractions within the grounds of the Castle for you to explore with the main one being the State Rooms which served as the residence of the governor. Similar is the Royal Private Apartments which were used by guests of the King. Both are decorated as they would have in their time giving you an interesting glimpse into the past. You can also visit a few exhibitions such as the Crown Treasury and Armoury, Oriental Art and The Lost Wawel, an archaeological site. Finally the best way to end your tour of Wawel Castle is to exit through the Dragon's Den. This cave was once believed to be home to the legend of the dragon of Wawel.
Address: Wawel 5, Krakow
Cost: State Room Adults 18zł, Concession/Child 11zł | Royal Apartments Adults 25zł, Concession/Child 19zł | Dragons Den 3zł | Crown Treasury & Armoury Adult 18zł, Concession/Child 11zł | The Lost Wawel Adult 8zł, Concession/Child 5zł | All free on Monday's from April to October and Sunday's from November to March.
Hours: Apr/Sept/Oct Mon-Fri 9:00-18:00 Sat-Sun 9:30-17:00 | May/Jun Mon-Fri 9:00-19:00 from 9:30 Sat-Sun | Jul/Aug 9:00-20:00 from 9:30 Sat-Sun | Nov-Mar Tues-Sun 9:15-16:00 closed Mon
More Information: http://www.wawel.krakow.pl/
---
Auschwitz-Birkenau State Museum
Auschwitz and Birkenau are two separate sites located roughly across the road from one another. I have taken a paragraph from Auschwitz Memorial and Museum website that sums up its history perfectly;
"At first, the German's held Polish political prisoners in the camp. From the spring of 1942 Auschwitz became the largest site for the murder of Jews brought here under the Nazi plan for their extermination. More than 1,100,000 men, women and children lost their lives here."
I know a lot of people are unsure about visiting a place like this where so many atrocities have occurred, it really can be very hard to handle and understand while you're there. Despite this, I believe that visiting Auschwitz-Birkenau (or similar former concentration camps in Europe) is extremely important so we can remember the mistakes made in history and ensure that similar mistakes and atrocities are not repeated. If you do decide to visit, prepare yourself for what you will see and learn.
Auschwitz is located roughly 70km west of Krakow. You can take the train from Krakow to Oswiecim (2km from the site) and then a local bus to the site or book an organised half day tour from Krakow.
Address: Stanislawy Leszczynskeij Str. No.11, Oswiecim
Cost: Free for individuals before 10:00 and after 15:00. Join a guided tour for 40zł during other times. Half day tours from Krakow start at 150zł.
Hours: Open 8:00 daily, closes 19:00 Jun/Jul/Aug, 18:00 May/Sept, 17:00 Apr/Oct, 16:00 Mar/Nov and 15:00 Dec-Feb.
More Information: http://www.auschwitz.org/ for individual visits and reservations or http://www.viator.com/ for guided tours from Krakow
---
Wieliczka Salt Mine
The Wieliczka Salt Mine has been in existence in some form or another for over 700 years and is one of the oldest in Europe. Inside this UNESCO World Cultural Heritage listed mine you will find carvings of important figures, monuments and altarpieces which have earned it historical importance. You're tour begins by descending into the mine via 380 odd steps (make sure you look down the small gap between the staircases at the top). Then your guide will slowly take you further into the mine via passageways, galleries and enormous chambers. One pretty gross thing a lot of visitors to the mine like to do is lick the walls to taste the salt.
Unless you have your own car, the best way to reach the mine is by organised tour from Krakow. As with Auschwitz, there are a number of tour companies that operate half day trips to the mine.
Address: ul. Danilowicza 10, Wieliczka
Cost: Entry 79zł or join a half day tours from Krakow for 150zł.
Hours: Apr-Oct 7:30-19:30 and Nov-Mar 8:00-17:00
More Information: http://www.wieliczka-saltmine.com/ for individual visits and reservations or http://www.viator.com/ for guided tours from Krakow
---
Czartoryski Museum
The Czartoryski Museum was founded in Pulawy in eastern Poland in 1796 by Princess Izabela Czartoryski and has since been moved to Krakow, via Russia and Paris due to conflict in war times. It's impressive collection of world class art and artefacts includes items from Wawel Cathedral and the Royal Castle, a fine collection of European paintings and antiques as well as an armoury and impressive jewel collection. Princess Czartoryski had a rather odd fascination with the misery of human life and collected items like fragments from the graves of Romeo and Juliet along with ashes from El Cid and Ximena  from the Cathedral of Burgos.
Address: ul. Sw Jana 19, Krakow
Cost: Adult 9zł Concession/Child 5zł – Free Sunday's.
Hours: Closed Mon, 10:00-16:00 Tues to Sun
More Information: http://www.muzeum-czartoryskich.krakow.pl/
---
Ethnographic Museum
Housed in a 14th century renaissance building in Kazimierz is the Ethnographic Museum. Inside you will find the permantent exhibition showing reconstructed interiors of traditions Polish peasant workshops and cottages, nativity scenes, folk costumes, traditional paintings and woodcarvings and and exhibit of crafts.
Address: Plac Wolnica 1, Kazimierz, Krakow
Cost: Adult 9zł Concession/Child 5zł – Free Sunday's.
Hours: Closed Mon, 11:00-19:00 Tues/Wed/Fri/Sat, until 21:00 Thurs, until 15:00 Sun
More Information: http://etnomuzeum.eu/
---
Barbican & City Walls
The world's largest Barbican which was once connected to the city walls was the gateway leading into the Old Town of Krakow. The city was once completely encircled by the city walls with the Barbican being one of the few remaining parts today. The brick structure was built in 1498 and is one of only three similar buildings left in Europe. Today you can tour the Barbican along with one of the adjacent towers.
Address: Florinska, Krakow
Cost: Adult 8zł Concession/Child 6zł
Hours: Apr-Oct 10:30-17:00, Nov-Mar closed.
More Information: http://etnomuzeum.eu/
---
Over to you!
What do you most want to do in Krakow?
Let us know using the comments section below or join us on social media to start a conversation.
Thanks for reading and we hope you enjoyed this post.