This post was updated on 15 May 2017.
Planning your first trip to a new region is exciting but it can be a daunting task, especially one as big and full of interesting and exciting places as Europe. With limited time it can be hard picking which places you should see this time and which ones might be better left for next time.
There are a few factors that I have considered when putting together this first timers one month Europe itinerary.
Firstly, this itinerary is about giving you enough time in each destination to see the main sights but also have some time to just soak it all in.
Secondly I considered logistics and how easy it is to get from one place to another. While Europe has many transport options that all make it simple to get around, when you only have one month you don't want to be spending a week of that getting from place to place.
Finally I considered popularity. A lot of people are reluctant to visit the popular places because they can be overcrowded and a touch touristy. Me on the other hand, I like to embrace it because really these places are be popular for a reason, they are awesome! It is nice to get off the beaten path from time to time but I believe that most people visiting Europe for the first time want to experience the places and sights everyone is talking about.
This itinerary is by no means comprehensive but what it does give you is an overview of what I think you shouldn't miss on your first visit to Europe. Feel free to use this as a guide, or a starting point and plan from there by adding any more stops or removing any places you don't fancy.
---
Transport
In Europe I have travelled by bus, plane and train all at different times and for different reasons. For this itinerary and for the easiest and most convenient way to travel, I suggest using the extensive network of trains.
Why Trains?
I'm a big advocate for train travel. And while it isn't always the cheapest mode of transport, it is usually the most convenient. The train will usually pick you up in the centre of a city and drop you in the centre of the next.
The biggest pluses to train travel for me is how comfortable and scenic it is. Most trains come in 1st and 2nd class with 2nd class being the equivalent of 1st class in most other parts of the world. Big picture window and on some trains, almost entirely glass compartments, help you take in the view while you're relaxing in your comfortable air-conditioned seat.
Tickets
For the itinerary below getting a rail plus is the most cost-effective and simplest way to go in terms of tickets. In most cases the pass is all you will need to board any train (except overnight sleepers and high-speed trains) at any time of day giving you the flexibility to move onto your next destination when the time suits you most.
Cost
Youth - 2nd Class
12-25 years
Adult - 1st Class
26 + years
Adult Saver - 1st Class
26 + years travelling in
a group of 2 or more
10 Days in 2 Months
$694.00
$1,107.00
$943.00
15 Days in 2 Months
$907.00
$1,450.00
$1,233.00
Prices in the above table are in Australian Dollars and are per person.
10 or 15 days in 2 months basically means that you have 10 or 15 travel days over a 2 month period. On each of those travel days you're allowed unlimited connections.
With the itinerary below, a 10 days in 2 months pass covers all 10 travel days outlined below. If you are adding any more days, then the 15 days in 2 months pass will be required.
One thing to be aware of is that an extra seat reservation and fee is required on sleeper and high-speed trains. The agency where you buy your pass (more on that below) will be able to sort out those reservations for you.
Where to Buy
European rail passes are not available to buy in Europe, so it is necessary that you are organised and buy them before you leave home.
There isn't unfortunately one universal agency that sells European rail passes, rather each country has its own specialist European rail ticket agencies. Along with these agencies, most travel agents will be able to help you with purchasing a pass.
Here is a list of specialist European rail ticket agencies available around the world:
---
One Month Europe Itinerary
---
Paris – 4 Days
Not to be Missed
Paris is the perfect place to get an art, culture and food fix. Check out some of the best museums in the world, The Louvre and d'Orsay to name just two. Take a ride up the iconic Eiffel Tower for views over the city. Cathedral lovers will love Notre Dame, Saint Chapelle and Sacre Coeur. For a bit of people watching, take a stroll down the Champs Elysee or through the Tulleries and Luxembourg Gardens. And why not add a half day trip out to visit the Palace of Versailles.
Where to Stay
Budget: Hotel Marignon | Mid: Hotel Passy Eiffel | Lux: Grand Hotel du Palais Royal
What to Eat
Croissants for breakfast, baguettes with fresh cheese and cured meats for lunch and warming soups, casseroles and steak frittes for dinner. And then there's the sweets. Delicate macarons, eclairs and other French pastries can be found in the most amazing smelling shops. Or pick up a crêpe smothered in nutella chocolate spread from vendors on the street.
---
Read More: 30 Things to Do in Paris
Be Inspired: Paris Photo Gallery | 5 of the Best Views from Above in Paris
---
Bruges – 2 Days
Travel Time
Paris to Bruges on a direct train service takes about two and a half hours. More frequent services run with one change in Brussels and take about the same amount of time.
Not to be Missed
Take a wander around the Old Town, through the Main Market Square, and down the cobblestone streets past beautiful medieval architecture. Cruise the romantic canals past some of the city's most romantic spots. Climb the steps of the Belfry from views over the city. Visit the Church of Our Lady to see Michelangelo's Madonna and Child.
Where to Stay
Budget: B&B Lady Jane | Mid: Grand Hotel Du Sablon | Lux: Guesthouse Maison le Dragon
What to Eat
Chocolate, chocolate, chocolate! And once your sick of chocolate, try some waffles or Frites which are hot fries with mayonnaise. Yum!
---
Read More: Things to Do in Bruges
Be Inspired: Bruges Photo Gallery
---
Amsterdam – 3 Days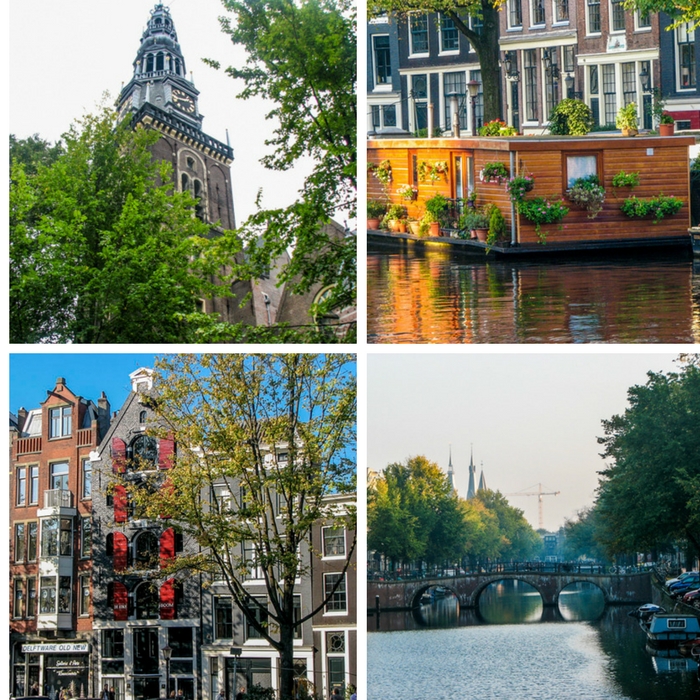 Travel Time
Bruges to Amsterdam by train requires one change in Brussels with the journey taking no more than three hours.
Not to be Missed
You can't come to Amsterdam without checking out its famous canals. Whether it's on foot, abroad a canal board or riding a bike, you could spend your whole three days just exploring them. But if you want to fit in a few more things, I highly recommend Anne Frank Haus to learn about the young woman and her family's story. You can also visit a few other world-class museums like the Rijksmuseum, Van Gogh Museum and Rembrandt House to name a few. Or take a cheeky walk around the famous Red Light District at night.
Where to Stay
Budget: Hotel Freeland | Mid: Max Brown Hotel Canal District | Lux: Waldorf Astoria Amsterdam
What to Eat
For some quintessential Dutch food, find yourself some raw herring, if you can stomach it. Grab a Kroket from a vending machine or some Frites from a street vendor. Or take a seat in a café to order some Erwtensoep, traditional split pea soup with other vegetables and pork. And to finish with something sweet try the poffertjes which are mini pancakes or stroopwafel, thin chewy waffle like biscuits.
---
Read More: Things to Do in Amsterdam
Be Inspired: Amsterdam Photo Gallery
---
Berlin – 3 Days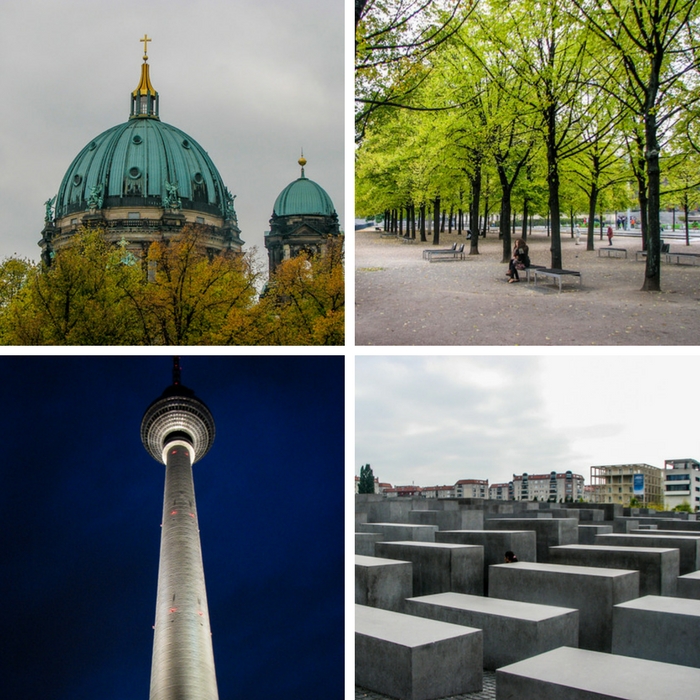 Travel Time
Amsterdam to Berlin can be done by direct train or with one change in Hanover. Travel time is about six hours.
Not to be Missed
Make a beeline straight to the iconic Brandenburg Gate to start your visit. From there it's an easy walk to most of the city's must see sights like the Memorial to the Murdered Jews of Europe to reflect on the city's terrible history. Visit a  bunch of great museums on Museum Island, take a ride up the Berlin TV Tower for views of the city and see some of the remain parts of the Berlin wall, including the section that's been converted into an outdoor art gallery, East Side Gallery.
Where to Stay
Budget: Ibis Budget Berlin Kurfürstendamm | Mid: B! Apartments | Lux: Regent Berlin
What to Eat
You're in Germany so a giant schnitzel or a pork knuckle is a must. For some street food try the currywurst which is basically sausages with curry sauce. Berlin is a very multicultural city so you will find food from just about every country in the world represented across the city.
---
Read More: Things to Do in Berlin | Getting Around Berlin
Be Inspired: Berlin Photo Gallery
---
Prague – 3 Days
Travel Time
Berlin to Prague trains run direct and takes less than 5 hours.
Not to be Missed
Avoid the craziness of Charles Bridge with an early morning stroll. Visit Prague Castle to step back in time and for views of the hundred spires across the city. Wander the old town cobblestone streets. Watch the Astronomical clock do it's thing in the Old Town Square.
Where to Stay
Budget: Hostel One Home | Mid: Mysterius Hotel Carnival | Lux: Hotel Paris Prague
What to Eat
Food in Prague is cheap if you stay away from the main tourist areas. Wander down the back streets to find traditional restaurants selling hearty goulash with dumplings and fish soup to help warm you up on a cold day. Try some local pork sausages with a typical accompaniment of sauerkraut. And wash it all down with some of the best beers in the world.
---
Read More: Things to Do in Prague
Be Inspired: Prague Photo Gallery
---
Salzburg – 2 Days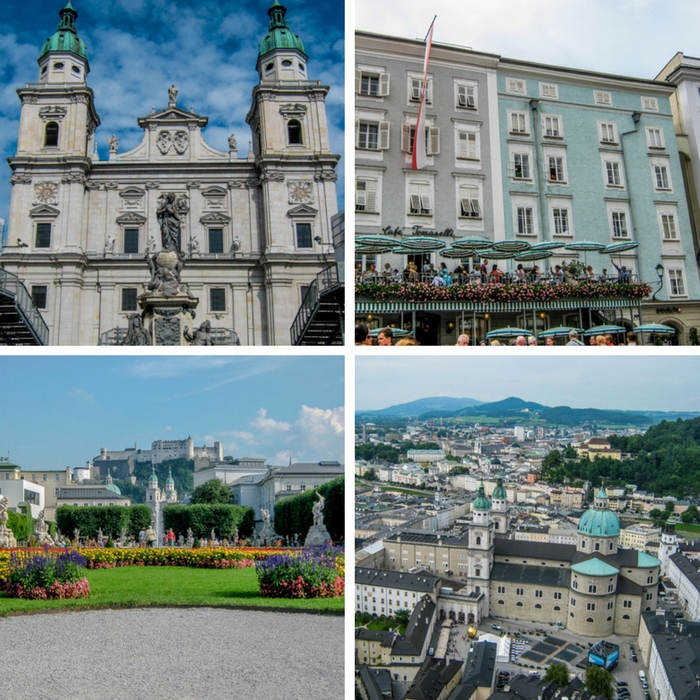 Travel Time
Prague to Salzburg takes about six hours by train with one change in Linz.
Not to be Missed
Get your Sound of Music on with a tour of this famous movies filming locations. Walk around the old town checking out some of the best examples of Baroque architecture in the world. Dance around the Pegasus Fountain (Sound of Music reference) in the beautiful Mirabell Gardens. Enjoy the incredible views from Hohensalzburg Fortress. And learn more about the genius that was Mozart at his once birthplace which is now a museum.
Where to Stay
Budget: Haus Wartenberg | Mid: Bergland Hotel | Lux: Hotel Sacher
What to Eat
Similar cuisine to that of neighbouring country Germany. You'll find big schnitzels, hearty pork knuckles with sauerkraut and traditional soups in the winter. For something sweet try a strudel or the nation favourite Nockerl.
---
Read More: Things to Do in Salzburg
Be Inspired: Salzburg Photo Gallery
---
Venice – 2 Days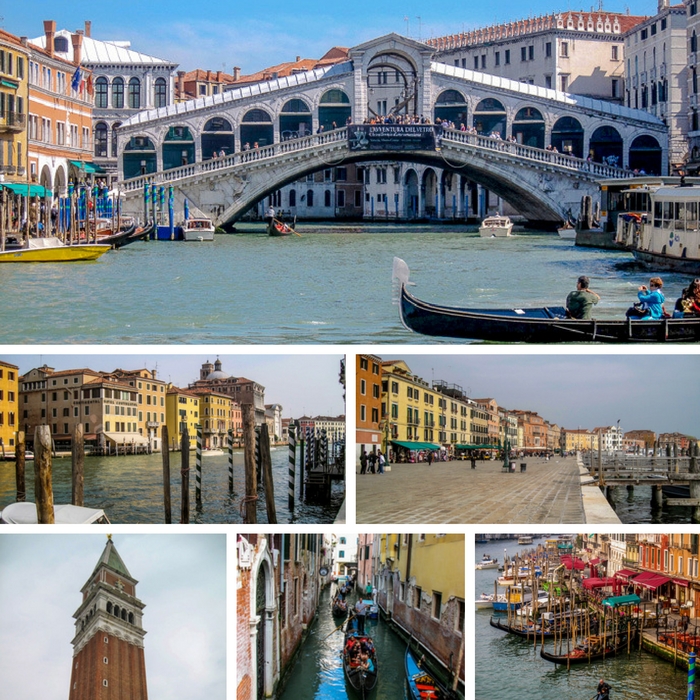 Travel Time
Salzburg to Venice can be done on an overnight train taking seven hours or during the day with one change in Villach taking around six hours.
Not to be Missed
Whether it's in a gondola or vaperetto, you must take a ride on the famous canals of Venice. Get lost wandering the winding cobblestone streets. Spend some time taking in the atmosphere of St Mark's Square, watching the people and the pigeons. Explore some of the outer islands of Burano, Murano or Lido to see a different side of Venice.
Where to Stay
Budget: Locanda Casa Petrarca | Mid: Hotel Noemi | Lux: Baglioni Hotel Luna
What to Eat
Unfortunately Venice is touristy and overpriced when it comes to food. Try to stay off the main tourist trail and get lost in the back streets to find traditional tavernas serving Italian food of pizzas, pastas and antipasto plates of cured meats. And don't forget to finish every meal with a gelato!
---
Rome – 4 Days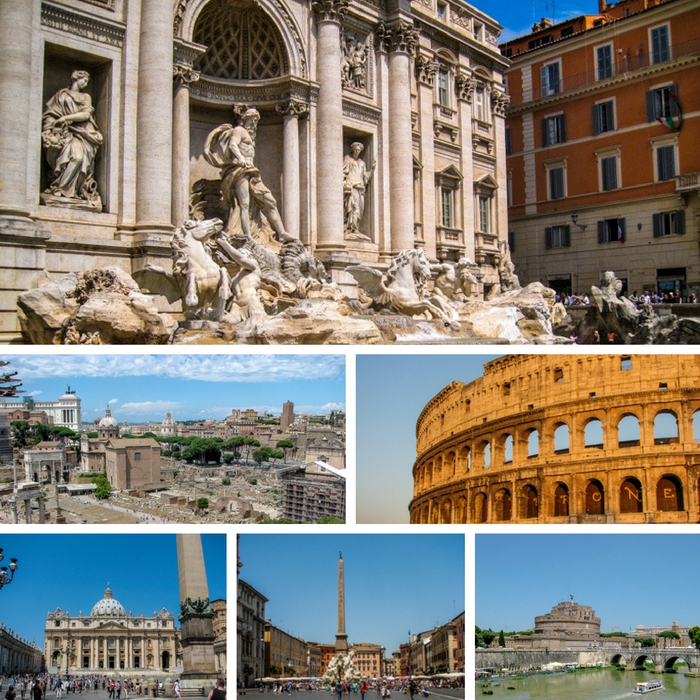 Travel Time
Venice to Rome takes around three and a half hours by direct train with almost hourly departures.
Not to be Missed
Get a taste of Roman life in the centre of one of Europe's biggest cities at the Colosseum and Roman Forum. Visit the inspiring and ancient Pantheon. Spend time in some of the city's best public spaces like the Spanish Steps, Campo de Fiori and Piazza Navona. Visit another country, Vatican City, to see some of the worlds most incredible masterpieces and get the chance to come face to face with the Pope. And of course you must throw a coin in the Trevi Fountain so you can one day return to Rome.
Where to Stay
Budget: Hotel Picasso | Mid: Al Viminale Hill Inn & Hotel | Lux: Hotel Raphael – Relais & Châteaux
What to Eat
You are in Italy so that means pizza, pasta, fresh salads and antipasto. Get off the main tourist drags to find the authentic tavernas, restaurants and cafes. Although the Italians are not huge on dessert, a slice of tiramisu or a canoli is a must. And eating gelato at least once a day is mandatory!
---
Read More: Rome: 30 Things to See & Do
Be Inspired: Rome Photo Gallery
---
Florence – 2 Days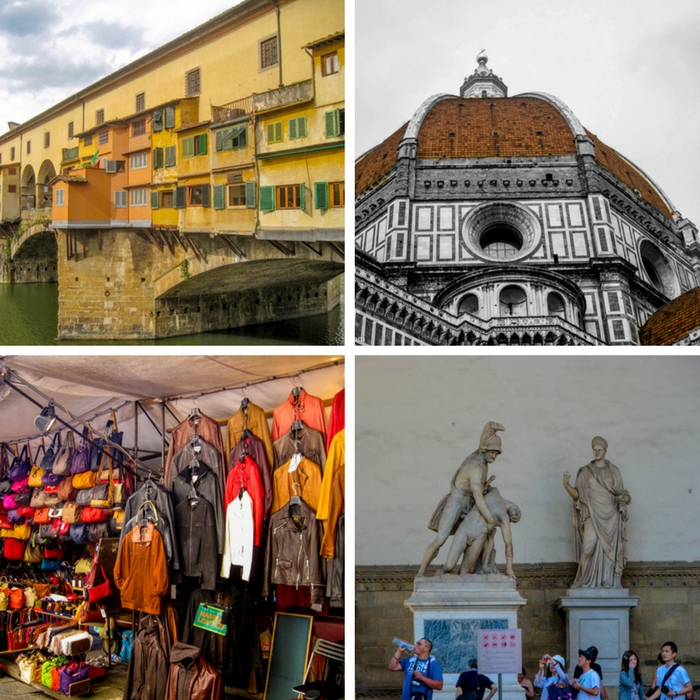 Travel Time
Rome to Florence takes just one and a half hours with services departing a few times every hour.
Not to be Missed
Art is the biggest drawcard in Florence and you can see some of the worlds best at the Uffitzi Gallery including the famous Statue of David. Check out the massive Duomo which dominates the square it sits on. Walk over one of Europe's most atmospheric bridges, Pont Vechhio.  And shop for leather goods in the Mercato Centrale.
Where to Stay
Budget: Hotel Por Santa Maria | Mid: Florence Dome Hotel | Lux: Portrait Firenze
What to Eat
As with Venice and Rome pizza and pasta will dominate the menus. A specialty of the region is steak, specifically Florentine t-bone steak which is cooked to perfection. I guarantee it will be the best steak you've ever had!
---
Read More: Things to Do in Florence
Be Inspired: Florence Photo Gallery
---
Nice – 2 Days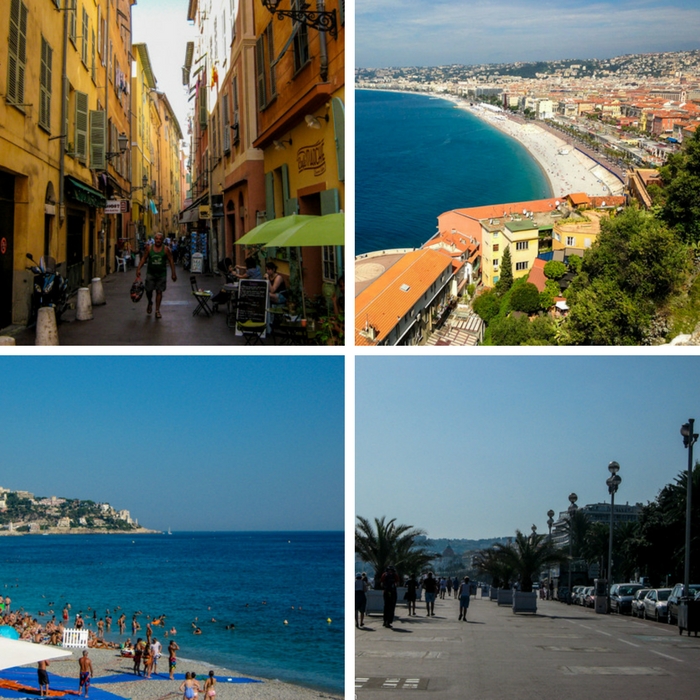 Travel Time
Florence to Nice can take up to seven hours by train with two changes required in Genova or Milan and Ventimiglia.
Not to be Missed
Take a walk along the Promenade des Anglais on the water front. Explore the winding lanes of the old town looking for tiny cafes and bars. Enjoy the Mediterranean waters with a swim. Take a train to Cannes to see where the rich and famous come to play for the yearly film festival. Or head to the tiny country of Monaco to mingle with the wealthy at Monte Carlo Casino.
Where to Stay
Budget: H33 Hotel, Nice | Mid: Hotel Le Seize, Nice | Lux: Hotel Negresco, Nice
What to Eat
You're on the sea so seafood is fresh and at it's best. Dine near the port for restaurants serving the freshest catches. Lots of fresh produce is used in fresh salads and dishes with a distinct Mediterranean flavour. Fish stew is the must try dish and don't miss out on trying the world-famous Nicoise salad.
---
Read More: Things to Do in Nice
Be Inspired: Nice Photo Gallery
---
Barcelona 3 Days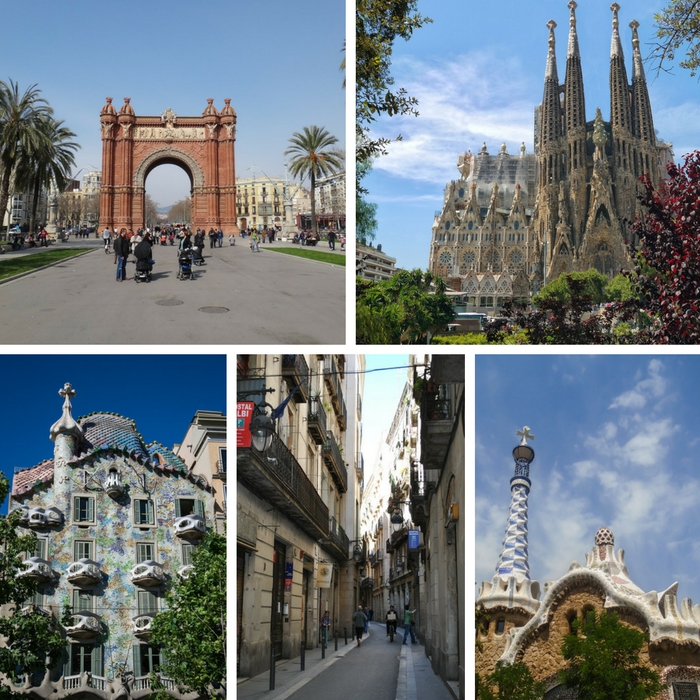 Travel Time
Nice to Barcelona by train takes around eight hours with two changes required in Marseille and Montpellier.
Not to be Missed
Take a long stroll down Las Ramblas to be entertained by street performers and lots of people watching opportunities. Check out the mark left on the city by Gaudi at Sangrada Familia, Park Guell and Casa Batllo. Wander the Gothic quarter to see some of the city's best Gothic architecture.
---
Read More: 48 Hours in Barcelona on The Diary of a Jewellery Lover
---
Where to Stay
Budget: Hotel Ingles | Mid: Regencia Colon | Lux: Hotel The Serras
What to Eat
For a meal shared with friends find a small tapas bar to enjoy small plates of food including freshly cut jamon, creamy croquettes, fresh seafood like sardines and bite sized omelette. For a bigger meal try the seafood paella, a rice dish cooked in one pan and topped with fresh seafood. For sweets you can't go past churros, a sugar or cinnamon coated long doughnut.
---
Disclaimer: This page contains affiliate links. If you found this article helpful, please consider using them to book your trip. It costs you no extra and helps to keep The Trusted Traveller running.
---
PIN THIS FOR LATER!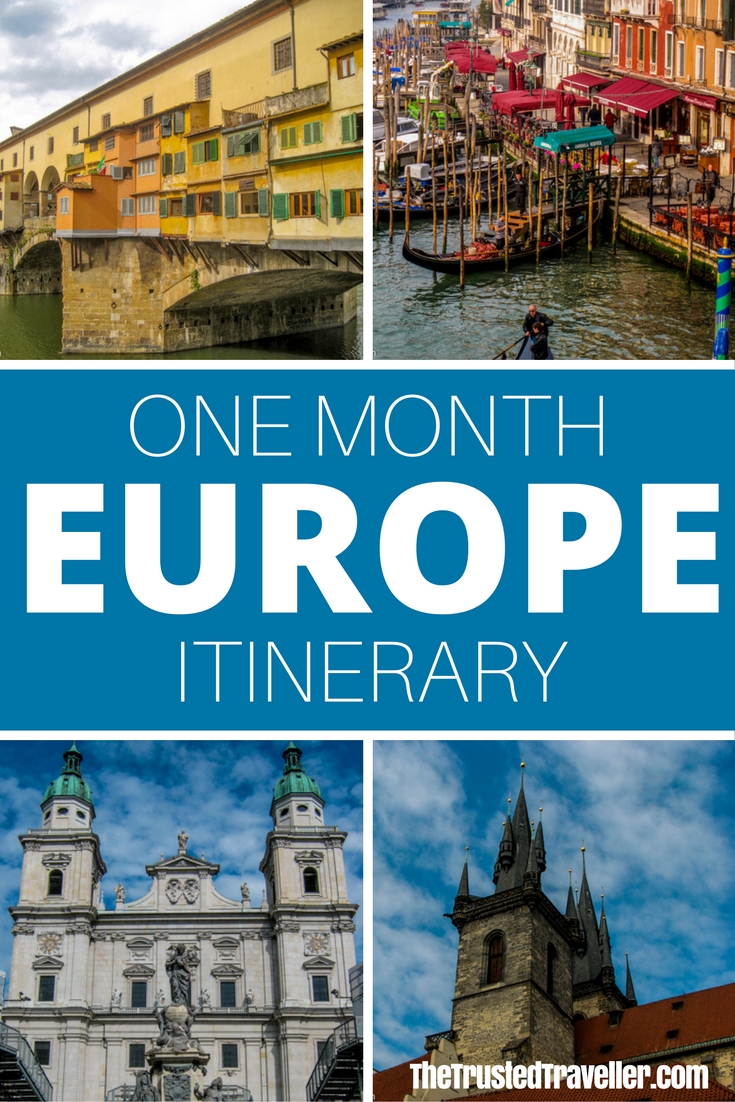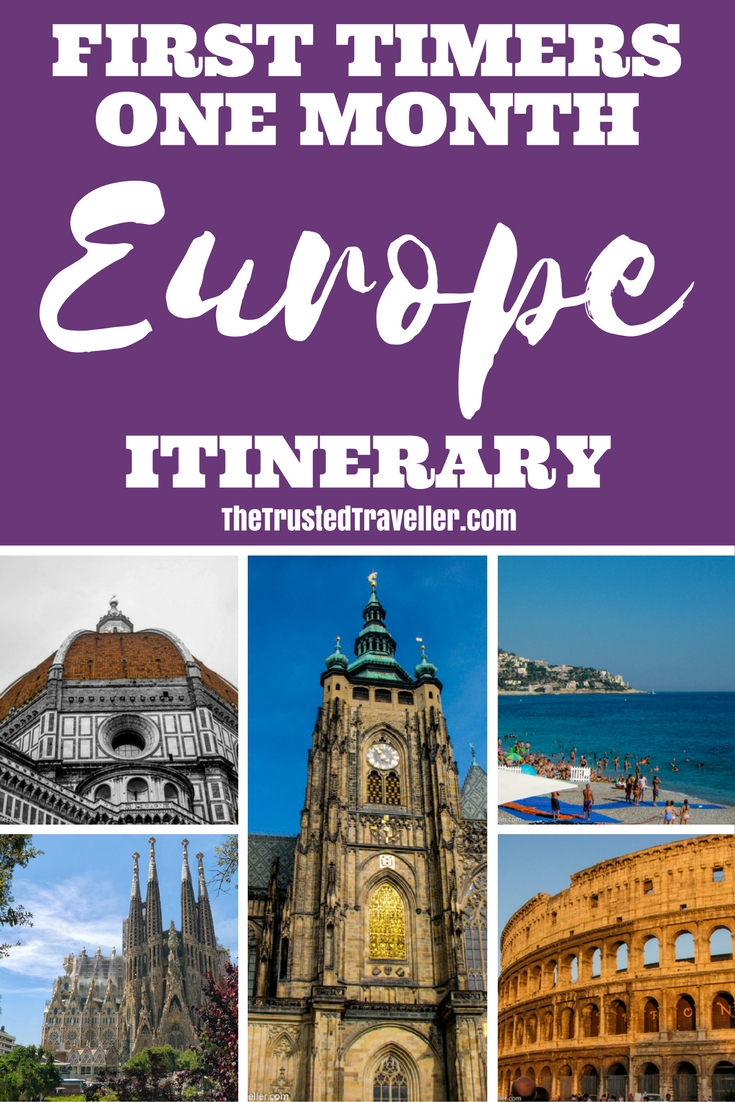 ---
Over to you!
What is top of your list of places to visit in Europe? What would you add to this one month Europe itinerary for your own trip?
Let me know using the comments section below or join me on social media to start a conversation.
Thanks for reading and I hope you enjoyed this post.