The thing that always makes me fail new years resolution's is that they're usually boring, laborious things like loosing weight, getting fit and eating better.  So at the end of 2015 I decided I wanted to create a list of new years resolutions that I might actually be able to stick to, ones that are fun and interesting that will keep me wanting to achieve them all throughout the year.
One is to read more fiction, something I stopped doing a few years ago when this website because my life, but something that I've loved doing my whole life. I've declared that this year I'd read at least 12 books and already in mid February I'm onto my fifth and have found that passion I use to have for getting lost in fictional characters lives.
But the resolution I want to tell you about today is more travel related of course. In 2016 I wan to watch more movies. And not just any movies, but the very best travel movies.
I don't generally watch a huge amount of movies because I can't sit still for two hours and focus on one thing, so this might be a little more challenging than my reading challenge. But the few travel movies I have watched over the years have really inspired me to get out there and explore more. Hence why I want to watch more of them this year because you can never have too much travel inspiration. Plus Mick loves watching movies so this is something we can do together this year as we slowly travel around Australia,
So to help us on our mission to watch the best travel movies out there, we've created this list of 22 which we will be ticking off throughout the year as we watch each one. We'd also love to get your input on any great movies that have inspired you to travel so we can add them to this list. Let us know in the comments at the end of this page.
The Best Travel Movies We've Never Seen (but will in 2016)
Amelie is an innocent and naive girl in Paris with her own sense of justice. She decides to help those around her and, along the way, discovers love.
Twenty-something Richard travels to Thailand and finds himself in possession of a strange map. Rumours state that it leads to a solitary beach paradise, a tropical bliss – excited and intrigued, he sets out to find it.
A faded movie star and a neglected young woman form an unlikely bond after crossing paths in Tokyo.
After graduating from Emory University, top student and athlete Christopher McCandless abandons his possessions, gives his entire $24,000 savings account to charity and hitchhikes to Alaska to live in the wilderness. Along the way, Christopher encounters a series of characters that shape his life.
Two terminally ill men escape from a cancer ward and head off on a road trip with a wish list of to-dos before they die.
The dramatization of a motorcycle road trip Che Guevara went on in his youth that showed him his life's calling.
Dumped by his girlfriend, a high school grad decides to embark on an overseas adventure in Europe with his friends.
Guilt-stricken after a job gone wrong, hitman Ray and his partner await orders from their ruthless boss in Bruges, Belgium, the last place in the world Ray wants to be.
An Arkansas waitress and a housewife shoot a rapist and take off in a '66 Thunderbird.
Follows a brilliant, flamboyant and controversial British military figure and his conflicted loyalties during wartime service.
Two drag queens and a transsexual travel across the desert to perform their unique style of cabaret.
A British investment broker inherits his uncle's chateau and vineyard in Provence, where he spent much of his childhood. He discovers a new laid-back lifestyle as he tries to renovate the estate to be sold.
True story of Heinrich Harrer, an Austrian mountain climber who became friends with the Dalai Lama at the time of China's takeover of Tibet.
A year after their father's funeral, three brothers travel across India by train in an attempt to bond with each other.
While on a trip to Paris with his fiancée's family, a nostalgic screenwriter finds himself mysteriously going back to the 1920s every day at midnight.
When his job along with that of his co-worker are threatened, Walter takes action in the real world embarking on a global journey that turns into an adventure more extraordinary than anything he could have ever imagined.
A father heads overseas to recover the body of his estranged son who died while traveling the "El camino de Santiago," and decides to take the pilgrimage himself.
Two girlfriends on a summer holiday in Spain become enamored with the same painter, unaware that his ex-wife, with whom he has a tempestuous relationship, is about to re-enter the picture.
On a trip around the world, every day feels like Saturday. A Map for Saturday reveals a world of long-term, solo travel through the stories of trekkers on four continents.
Chronicles the motorcycle trip of Ben Tyler as he rides from Toronto to Tofino, British Columbia. Ben stops at landmarks that are both iconic and idiosyncratic on his quest to find meaning in his life.
Two counterculture bikers travel from Los Angeles to New Orleans in search of America.
High school grad. Conner Layne is about to marry his first love, but when wedding plans fail, he goes solo on his honeymoon to Central America, finding adventure with a ragtag group of foreigners who attempt to cross the Darien Gap in record time.
---
Disclaimer: There are affiliate links throughout this post. When you click on them, and make a purchase, you are supporting us and The Trusted Traveller at no extra cost to you.
---
PIN THIS FOR LATER!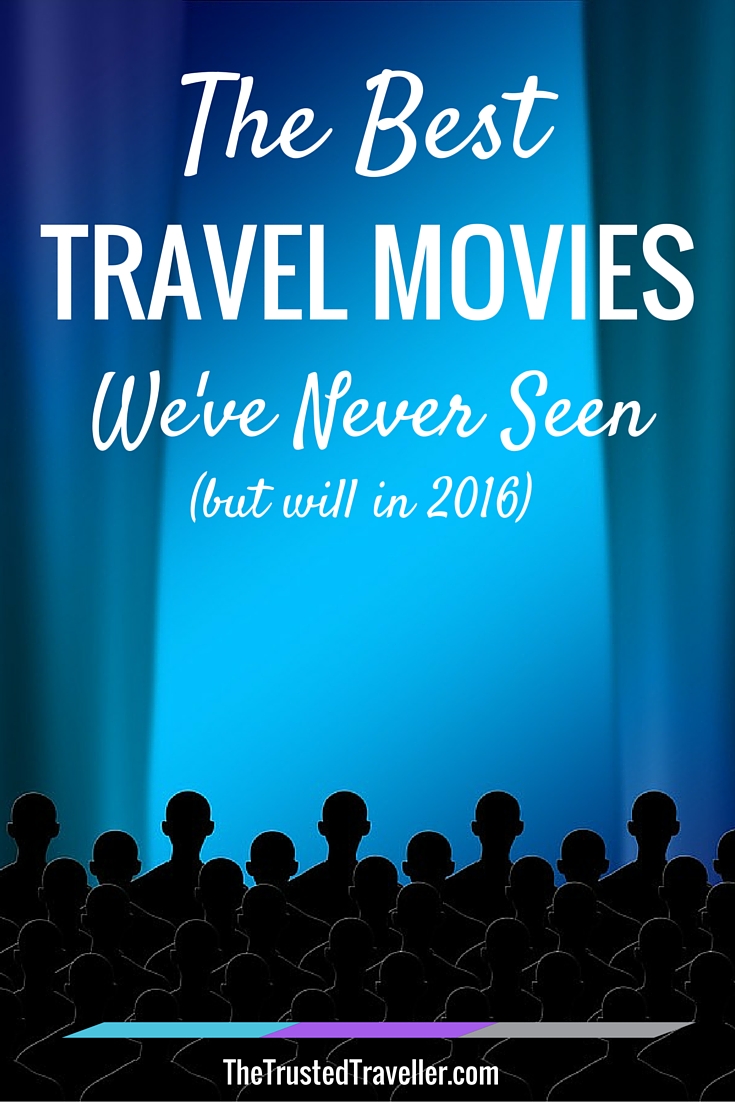 ---
Over to you!
What's the best travel movie you've watched? Any suggestions for ones we should add to this list?
Let us know using the comments section below or join us on social media to start a conversation.
Thanks for reading and we hope you enjoyed this post.